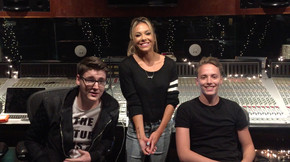 Following the international success of 2015's "My Forever," Dutch duo, Reez and America's Mandy Jiroux have once again teamed up for a musical collaboration. The new track, "Fade Away", is being released worldwide across all digital platforms today, Monday, January 18th. This second collaboration between Reez and Mandy Jiroux, is a progressive house blend with a melody and vocal so catchy it will definitely get stuck in your head! DJ's who have previewed the new track promise this will be your first "earworm" of the new year! The single is being released by Zouk Recordings, Armada's home to the new generation of producers.
Stay tuned for a video for "Fade Away" released on Zouk's YouTube channel.
Reez consists of Dutch natives Renze Michels and Siem Henskens, two 18-year-old producers who, in just 3 years, have already managed to shape a strong musical identity. With high profile collaborations with KSHMR & Bassjackers, the successful release of their solo record Prophecy, and official remixes for Bomba Estéreo & Will Smith and The Chainsmokers, 2015 was an incredible year. With great releases to come in 2016, the future is looking more than bright for the Dutch youngsters.