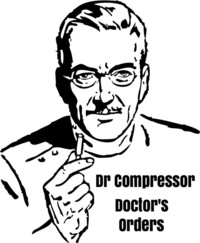 Dr Compressor creates dark downtempo on the shadowy "Doctor's Orders". Spacious with its elaborate sound Dr Compressor weaves in a wide variety of samples throughout the collection. Lush grooves dominate the collection. Bass lines are incredible throughout the entirety of the collection. Engrossing in their intricate detail Dr Compressor at times feels reminiscent of Nightmares on Wax's early work. Oddly soothing the songs feel akin to tapping into some long forgotten dream.
Audio: https://soundcloud.com/dr-compressor/sets/doctors-orders
Things start off on a high note with the flexibility of "I". Starting off with glistening tones the song begins to slowly come together. Dr Compressor shows tremendous restraint giving the song a minimal eerie vibe. Various samples ebb and flow their way out of the mix creating an active always shifting soundscape. Percussion hits hard on "II". On "III" Dr Compressor sounds akin to Dabrye's first album "One/Three". By far the highlight of the collection is the nebulous clouds of sound that dominate "IV". Even as the rest of the percussion tights up the song retains a certain sense of exploration. A unique hybrid of dub and jazz are merged together on the infectious groove of "V". Nearly experimental "VII" plays with space and tempo refusing to be neatly pigeonholed. Bass on "VII" is heavy, very heavy and deeply satisfying. Ending things on a tender note is the warmth of "VIII".
Neatly woven together "Doctor's Orders" shows off Dr Compressor's deft hand at production with elegant impeccable arrangements.
Posted by Beach Sloth