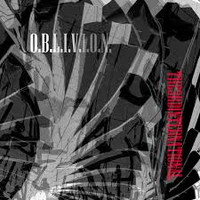 Third International is an interesting project from New York but has roots in England. The band was formed, in 2010 as a vehicle for my songs. I wrote and performed around the world for many years, took a couple decades off and found myself inspired by the new music that was coming out. I had a lot to say, having lived an interesting an full life. There have been many talented individuals pass through on the way to now. Guys who've played with the likes of King Crimson, Foreigner, Dr. John, Beyonce, Henry Gross, Coldplay, Billy Cobham, Larry Coryell, Dave Sanborn all came and contributed. The current lineup has been together nearly two years, played several shows and produced numerous videos and an album, O.B.L.I.V.I.O.N.
Band members are: Szabolcs Szenasi (Drums, Sampling, Machine Patterns), Enrique Mancia (Bass), and Brian Battersby (Audio Sampling) and Andrew Pearson (vocals, guitar, Synth and Moog).
Enter Pearson originally from England traverses a vale of desperate melancholy on his new album Oblivion. A musical tragedy leads the listener into a world of schizoid nightmares, maudlin delusions and trampled love, a life at odds with humanity and its endless insanity. Following albums with dark guitar soundscapes. Oblivion is and experimental Electronic-Alt-Rock the do-it-yourselfer masterpiece of sorts. The album containing (11) Tracks is extremely dramatic and suspenseful. It has a very quirky-dark quality to it as well The intro track "Helix" gives you the impression as if you were in some noir college film. The really dark, yet emotional charged guitar and vocals leaves you breathless. I like the industrial ending. The music reminiscent of acts such as Julianna Barwick, Ben Frost and Oneohthrix, and King Crimson. Pearson has really strong tonality foundation coupled with unusual rhythms, hypnotic guitar and spaced out goodness. The vocals and lyrics are interesting borderline fascinating. Without a doubt, it's impossible to deny the superiority of this artist consisting of Pearson and his 2 member band. Imagine King Crimson and Pink Floyd having a bay – now you get right? Pearson's sound. It's epically, quirky and you get this feeling as if you are in a funny nightmare. The drums and the bass lines just help push the album forward, and the vibe, if you pay attention carefully, has a really odd, mysterious, X-File sort of vibe. As the CD evolves it showcases some dramatic combinations or Folk like guitar and Electonica overtones on tracks like ""Barograph" and "Liar." The drum/synth/vocal combos have an important role on some pieces as well. On many these tracks as a producer Pearson andBrian Battersby is clearly in charge of giving the mood assigning to each song. The addition of the ambient tidbits every now and then gives many song a rock based with ambient/eletronica touches.
I suppose my favorite track is by far "Helix."
In conclusion, here's a CD release I've been dying to get my hands on for a while. I was just unable to stumble across Third International until today. It's also very subliminal, and a grand concept that's sure to get many peoples attention. From the production level, to the musicianship involved, Oblivion by Third International delivers in grand fashion. Let's also give credit to the evil genius behind all this shall we? With the advent of Pearson's superlative signature sound via his trademark moniker (Third International) everything here works terrifically well. It will keep you in a state of wonder from start to finish.
Rating 4/5 Stars
URL: http://thethirdinternational.com
Daniel Ferguson