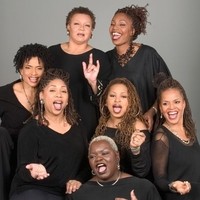 Sweet Honey in the Rock has a long, illustrious history as one of music's preeminent performing entities. The six piece female a cappella unit has long merged a social mission with their musical aims, but rather than tackling longstanding issues with a heavy-handed or dated manner, they consistently portray the realities of modern life for many with timeless compassion and insight. Their musical merits are unquestionable – their rich harmonies, audacious explorations of melody and tempo for the human voice, and spot-on chemistry never miss. Their first studio album in nearly a decade and twenty-fourth overall, Love in Evolution, glitters and blooms with the same creativity and bravery characterizing Sweet Honey in the Rock since their formation.
"Somebody Prayed for Me" opens the album with a light touch. The group's luminous harmonies carry this song, but punctuating them with soulful solo phrases is a masterful touch. The song incorporates understated percussion that nicely compliments the vocals. "I Don't Want No Trouble at the River" dives deeply into the group's gospel roots with equal parts reverence and individuality. There are few better illustrations of their endless vocal creativity than this track.
"A Prayer for the World" references Psalm 23 of the Christian Bible, but the song doesn't have a didactic or missionary aim. Perhaps the greatest compliment you can pay Sweet Honey in the Rock is that their harmonies and interplay are so seamless they often sound like they are singing with one amazingly varied voice. However, their musical instincts have a sharpness extending far past the vocal realm. Astutely employed bass and percussion joins them and the quartet wraps their voices around the strong, in-the-pocket backbeat for maximum effect. "Mercy Mercy Me" opens with bass, scat vocals, and even some spoken word before segueing into the song proper. The track demonstrates yet again that anything is fair game for this impressive unit – their imagination helps transform what might otherwise be a respectful, buttoned-down nod to a past master into something closer to re-envisioning a classic for a modern audience.
"Second Line Blues" hints at its subject matter from its opening percussion alone. Sweet Honey in the Rock is again interested in setting the scene before guiding listeners too deeply into the song. Once the track is properly underway, their soulful invocation of prominent names who've died as the result of gun violence, like the children of Sandy Hook school, Michael Brown, and Walter Scott, among others, has a deeply mournful air thanks to superb scat singing and tasteful, stripped back accompaniment. Based on titles alone, "IDK, But I'm LOL!" might strike some as a novelty number in the offing. There's no need to worry. The track firmly keeps the quartet on their customary path and sparkles thanks, in part, to a beautifully crafted lyric touching on the group's common themes.
Love in Evolution will fulfill listeners on many levels. The musicality is unquestionable and the vocal chemistry imbues their lyrics with tremendous authority and feeling. The musical arrangements neatly dovetail with the talented quartet and enhance the melodies – but most importantly, these elements aid the group in delivering timely, important messages in a thought-provoking, heartfelt manner.
5/5 Stars.
AMAZON: http://www.amazon.com/Sweet-Honey-In-The-Rock/e/B000APVS74
Official URL: http://sweethoneyintherock.org/
Jason Hillenburg