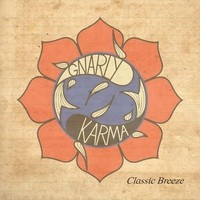 Based out of Long Island, NY, Gnarly Karma is a memorable four piece rock/fusion band quickly making a formidable reputation for themselves in one of the nation's toughest music markets. Their aspirations to a fusion label aren't understated – Gnarly Karma's instrumental attack brings together a number of seemingly incongruous elements into a compelling musical stew. Harmonica, alto and tenor sax, and keyboard textures flavor the nine songs on their debut Classic Breeze. The production has a raw vitality that recalls the immediacy of live performance while never sounding anything less than polished and well-rehearsed. The combination of aggressively played acoustic guitar with the surprising brass and electronic surfaces makes for an unusual experience.
"Open Up (Let Yourself Go)" kicks the album off in rousing fashion with its uptempo pace and Mike Renert's go for broke acoustic guitar work. It's clear from the first few seconds that Gnarly Karma plays as a band, not some hodgepodge of musician divas looking for a chance to solo. The rhythm section of drummer Jarrod Beyer and bassist Ryan McAdam give everyone surrounding them a flexible, light-footed foundation that never wavers. This sort of dependability allows the band to punctuate their tracks with elements like saxophone and harmonica without sacrificing the music's organic quality. Nothing sounds arbitrary or slapped on after the fact. The influence of Dave Matthews Band's work is strong here and on the album's second track, "Please Come Home". Renert has a much more mainstream, pop-oriented voice than Matthews and that sensitivity is important on a song like this. Once again, Gnarly Karma opts for a low-fi approach that stresses their musicality rather than attempting to bowl the listener over with sonic power.
"Directions" has a quirky, irresistible groove and deliciously sarcastic lyrics hinting at deeper struggles. Backing vocals augment Renert's vocals in an understated way and the song's frantic pulse keeps the track at a strong boil from first beat to last. "Been There Before" is the first time when the band slows down its tempos and delivers something close to a ballad. There's very little rock and roll here, except perhaps in Renert's vocal, but the song's melodic qualities and sturdy structure help make it one of the album's best tracks, but a rousing conclusion conclusively seals the deal.
Keyboards and saxophone take on a much more prominent role in "Eyes Closed" and the song's expansive texture makes it likely ideal for live performance. The real strength of the song, however, is the loose, confident groove the band establishes from the outset. Gnarly Karma perfects a lazy, unwinding style on "Neptune" without risking any affectation. The song has a leisurely, balanced pace that Renert's singing responds to playfully, but with moments of real emotional commitment. He rips loose with some honest to God rock wailing as the song continues, as if the song's narrator gradually breaks down deep in the track. The album's final proper song, excepting the brief closing track, is a satisfying mid-tempo tune featuring the full array of Gnarly Karma's instrumental voices. The guitars veer between acoustic rhythm, sudden blasts of electric, and minimalist effects-laden melodies. Renert's voice dominates the track and gets nice support from saxophone. It's obvious Gnarly Karma are reaching a little higher here than elsewhere on the album with its multi-part construction and shifting dynamics, but the experiment pays off with a magnificent finale.
As debuts go, this is deceptively steady. There's little of the dead-end experimentation or hesitancy here one might associate with novice bands. Nor is there any of the half-hysterical willingness to try anything in every song that young bands eager to impress are wont to try. Instead, Classic Breeze plays like the product of an integrated musical unit with chemistry to burn and chops to carry it off.
4/5 Stars
URL: https://www.facebook.com/gnarlykarmamusic/
Jason Hillenburg