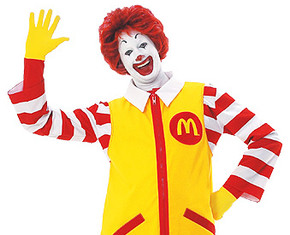 Business and marketing have evolved over the years. Successful brands and companies find new innovative and successful marketing strategies to take their businesses forward. There are many factors which influence a brand/companies' image and a lot depends on the marketing strategies adopted by the company. Among the many strategies, having a powerful and creative mascot can very much influence the brand's identity. Unlike ad copy, customers can easily identify a brand by its mascot. A creatively designed mascot can create a strong presence in the audiences mind. So here's a list of ten famous brand mascots.
1. Mickey Mouse
Everyone knows Mickey Mouse and everyone instantly relates it to Walt Disney. There have been many memorable characters created by Disney but none has reached the heights of popularity that Mick Mouse achieved. The world's most beloved mouse was created and debuted in 1928 in animation called Steamboat Willie that just featured synchronized music and sound effects. Today this cute rodent has featured in more than 130 movies, promoting the Walt Disney Company better than anyone possibly could. Walt Disney himself voiced Mickey Mouse, a task which he took great personal pride. He was a true genius in marketing the Mickey Mouse, and thus came Mickey Mouse fan club, Mickey Mouse merchandises, newspaper comic strip, theme park, TV shows, movies and much more.
2. Ronald McDonald
The greatest marketing move of the world's largest fast food chain McDonald's, was to make a clown character its official mascot. The cheerful clown with a red wig first appeared in 1966 via a commercial for a flying hamburger that was shown in CNS and NBC. It was a huge hit and he became to be identified as the face of McDonald's. In television commercials, he inhabits a fantasy world called McDonald Land and has adventures with his friends Mayor McCheese, the Hamburglar, Birdie the Early Bird and the Fry Kids. Many people work full time in the mascot's costume, visiting children in the hospitals and attending many regular events. Thanks to the effective marketing and the resulting popularity of the mascot, McDonald's and their burgers are popular throughout the world.
3. Michelin Man
Michelin Man is the symbol of Michelin Tire Company. The original name of the mascot is Bibendum but people recognize him as the Michelin Man. The mascot was first introduced in 1898 and is one of the oldest mascots around the world. Michelin Man is basically made of tires and his appearance has evolved through the years. It has been numerously recognized for being one of the most recognizable mascots.
4. Tony the Tiger
Everyone will associate this bright and cheerful tiger's image with their pleasant mornings. Tony the Tiger is the cartoon mascot of Kellogg's Frosted Flakes breakfast cereal, appearing on its packaging and advertising. Tony the tiger, best known for his phrase "They're grrreat!" , has been popular since its debut on the box cover of the cereal in 1952. Kellogg's in fact had another mascot named Katy the Kangaroo, which they had to shelve due to the immense popularity and effectiveness of Tony the Tiger. The character have now spanned several generations and become a breakfast cereal icon.
5. Pillsbury Doughboy
Poppin' Fresh or more popularly known as Pillsbury Doughboy is an advertising icon and mascot of the Pillsbury Company. This cute little character with bright blue eyes, wearing a scarf and chef's hat, was created and launched in 1965. The design and creation of this popular mascot was done by Leo Burnett advertising agency. What made him so popular was his cute giggle when he is poked on his stomach. Since its creation, Pillsbury has used him in more than 600 commercials for more than fifty of its products.
A mascot or icon will add an extra charm to the company. It reaches out to the audience of all ages. Also it tells the story of the brand without needing any words. So having a good creative mascot is great marketing strategy on the long run, as all these successful companies have proved.