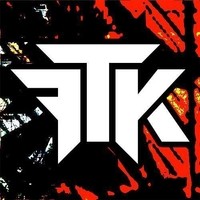 For The Kill's "Fire & Whiskey" is hard rock at its absolute best. Dominating through sheer volume the songs pummel the listener into submission. Tying the songs together is Frank's commanding vocals which rise above the intense riffing. Joey C.'s attention to detail is particularly satisfying as his guitar playing is pure perfection. Tommy D'Angelis's work on bass helps to anchor the sound. Propelling the songs forward is Count Diefenbach's powerful drumming which is relentless. Indeed at times the sound verges on the purely physical at times, as the sound grows ever larger and larger. Buildups are one of the true highlights as For The Kill lets things reach into an impassioned chaotic scree.
Nowhere are the drums felt more ominously than on the epic scale of "Fire Of The Dragon". Slowing things down at first the gradual movement forward is particularly satisfying. Frank's cryptic lyrics serve as yet another highlight of the track. On "Fire & Whiskey" For The Kill takes an approach worthy of its name. Holding no prisoners the guitar riffing is particularly intense and the drums come out positively swinging. Burning through its track time is the maddening work of "Leave Me Be" whose fiery solos are woven directly into the song's ultimate sense of foreboding. Fast, almost unbelievably fast, is the catchy riffing of "Freedom" where the song's nimble flexibility shows off For The Kill's impressive chops.
A force of nature, For The Kill's "Fire & Whiskey" does not let up, harking back to a better brasher time in rock.
https://www.facebook.com/pages/page/443669749023217
Posted by Beach Sloth