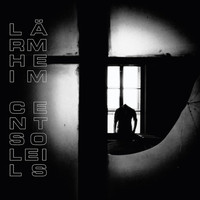 Lärmheim's "Cent Soleils" offers up an aural kaleidoscope of sounds and styles. Ranging from chaotic, noise-like rushes to the absolute sublime subdued ambient acoustics, Lärmheim does it all with the utmost of ease. With clear influences ranging from Aphex Twin's very best work to Pan Sonic's unrelenting aural assaults, "Cent Soleils" presents a plethora of sound. Volume is a must in order to get the full impact of the sound whether it borders on the physical or on the atmospheric.
Listen to the full album on Bandcamp.
http://music.laermheim.ch/album/cent-soleils
Wasting no time at all Lärmheim jumps into a blender of sounds on the cacophonous "One Second Before the Most Blinding Light of All". On this track Lärmheim opts for sonic shrapnel as the sounds are twisted into bizarre yet stunningly beautiful patterns. "Deadeye" takes a different tact: balancing between the gentle and grating Lärmheim takes great pleasure in allowing the two competing approaches to seemingly duke it out. Towards the end of the piece the two appear to come together in a full-bodied satisfying groove. Absolutely intense in scope is the Ben Frost inspired apocalyptic tone of "Trommelgraben". By far the highlight of the album is the wheezing weird melody of "Faurmanter". Reminiscent of Autechre's combination of melody and rhythm the song is eerie yet oddly inviting. Grandeur marks the expressive textures of the aptly named "VideoGameSoundtrack". Going out in a blaze of glory is the tremendous work of "Rumori Danza" whose flailing percussion make it another album highlight.
An absolute pleasure of an album, Lärmheim's "Cent Soleils" shows that electro-acoustic experimentation is alive and well. Deeply compelling this is a full, immersive experience.
https://www.facebook.com/larmheim
Posted by Beach Sloth