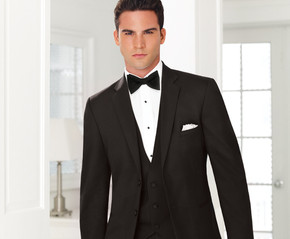 One of the successful achievements in a man's lifespan is the act of going on your knee, proposing to the woman you love and she actually says Yes! Don't you just get a sigh of relief when you nail it? Proposals can be as uncertain as the downpour of rain, more so if you are the kind who has purposed to go down on your knee in the presence of your close family and friends. You have to make sure you get it right.
The traditional engagements have often dictated the responsibility of wearing the engagement ring to be bestowed upon the bride-to-be while the groom-to-be's fingers remain clean. There is no indication of intent of a lifetime commitment. Women love to wear engagement rings and proudly show them off to their girlfriends as they coo about the upcoming nuptials. Well, it is about time that men break the tradition and embrace the idea of wearing a man-gagement ring.
The concept of the engagement ring has changed over time to reflect the current norms in society. In the past women wore engagement rings as a symbol that the men who had promised marital bliss to them had made a commitment to take care of them. In the 21st century, things have pretty much changed whereby both men and women wearing engagement rings is a sign of devotion to one another and demonstration of an emotional bond. Therefore, before you go shopping for the best men's wedding rings perhaps you can consider getting into the new trend of man-gagement rings.
Traditionally, purchasing an engagement ring for the bride-to-be was the sole responsibility of the groom-to-be. However, with the changing times coupled with economic empowerment for women, selecting engagement rings for the couple has increasingly been pursued as a joint venture, with more couples cost sharing. This manifests a sign that both are committed to taking care of each other.
When selecting a man-gagement ring you want to be keen in creating a distinction between it and your wedding ring. The good news is that more jewelers are catching up with the trend, providing unique styles and recommending appropriate metals that would work best as man-gagement rings. If you are still doubtful about this new trend of man-gagement rings, consider this:
Man-gagement rings are a symbol of the bride's commitment
We live in a world of dual earners and age whereby more women are embracing an era of equal marriages. If your ladylove goes out to shop for a man-gagement ring for you, it is a sure sign that she is committed and proud to be with you. Don't you think it is something men should take in good stride?
Communicates your off-the-market status
Remember when the girl wears the ring it means that she is taken and other guys should keep off. In showing the same kind of commitment to her, wearing a man-gagement ring is not such a bad idea after all.
About the Author: Arthur McCain has acquired fifteen years' experience as a jewelry designer and occasionally writes articles for http://www.MensWeddingBands.com.