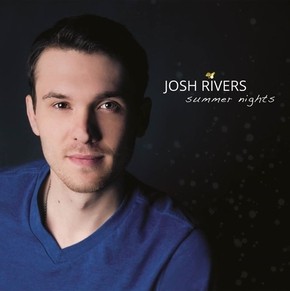 If you like catchy Alt Pop with some Gospel elements thrown in then you'll love Josh Rivers Band. Hailing from the live music capitol of the world, Austin, these Texans provide music that is soft, intimate and positive. I find this amazing considering the dark cult experience Josh Rivers lived through but turning darkness into light is the objective for Josh Rivers and his band AND the overall theme for the debut album. Titled 'Josh Rivers—Summer Nights', this will be the first, full-length release for Josh Rivers Band as the listeners will get invited into the world and childhood of Josh. The latest single, "Summer Nights", displays incredibly catchy Pop Hooks & melodies and a real human touch that screams Radio Hit! Get ready for Josh Rivers Band as they look to spread bright, shining music that's worth a thousand words and a thousand listens.
You have deep gospel roots and want to know what this music truly means to you?
Josh Rivers: Music is an art form. And I know that sounds cliché but let me elaborate. They say that a picture is worth a 1000 words. I think music works the same way. There is nothing more rewarding to me than taking a novel's worth of thoughts and ideas and putting them into a few short lines. In the same way a painter may try to create a statement of revolution or a photographer may capture a moment of love, I want my music to speak volumes to the listener.
J Rae: The acoustic guitar playing on your songs is simply dynamite and music to my ears and wondering what attracted you to this particular mode of sound and when did you start playing acoustic guitar?
Josh Rivers: I really didn't start playing guitar until I was about 17. I did play piano at a young age though and I have always had love for music that was soft and intimate. Not that I don't enjoy hard rock or other kinds of music because I really do. But when the music is soft and intimate it speaks to me more and I can get lost in it.
J Rae: Being that you're in a hot spot for live music, what have you personally gained by living in Austin, Texas?
Josh Rivers: Experience is a big advantage here. I have been able to play all types of venues and events because music is so popular here. And when I can't play, I can watch and learn. I've seen 100's of bands from multi-platinum artists to up and comers, like myself, and I have learned so much from these guys. It has helped me cultivate myself as an artist and honestly, that's an ongoing class.
J Rae: Besides the music scene, what is the next best thing about life in Austin?
Josh Rivers: All the people moving here. I love California traffic in Austin! ;P
J Rae: One last matter of attention regarding Austin, Texas has to be about the SXSW Festival especially since you're right there and because this venue showcases a vast amount of talented artists from all over the world. I have to imagine you've attended this huge event a time or two before and if so would love for you to describe your experience(s) to all of the Skope readers out there. I've never been to this music festival myself and for anyone else who hasn't attended the ever popular SXSW Festival what makes this event stand out from the rest and what's so darn special about SXSW? And any plans of entering your band in the future and what would it mean to The Josh Rivers Band to be on this bill?
Josh Rivers: Oh yes, we definitely plan on playing this year. I have so many great memories from SXSW that it would be a dream come true to be able to play there. As a teenager, I can remember getting to see some amazing bands and even meet and hang out with some after shows. I remember seeing The Dear Hunter one year and hanging out with them afterwards. They had just cut their first record and I was just in awe of how talented they were live. They were some of the coolest guys I had met and they even invited us to get on their tour bus and finish out the tour with them. I'll always regret not going, but some of my fondest memories happened at SXSW.
J Rae: Gospel music appears to be your bread and butter but I've noticed that elements of Alternative and Pop have snuck into your music as of recently. What was the idea behind this and how has it helped shape your overall sound by including Alt Pop now? Does this transformation seem to be one that will stick for a long time to come or are you still evolving as an artist?
Josh Rivers: Gospel music was where I came from but not by choice. I actually spent 13 years of my life in a cult and didn't get out of it until I was 16. Alt Pop music is where I sit most comfortably because it allows me to say what I have to say. My background has given a perspective that is different than most and Alt Pop is the podium where I can share that perspective. I really don't think I'll be changing any time soon.
J Rae: I just heard your song "Summer Nights" and want to know why the heck this isn't a hit single yet for The Josh Rivers Band? Reason I ask is because as soon as I hit play on the video to "Summer Nights" it screamed Radio Hit to me! With its catchy & carefree Pop hooks/melodies to go along with your smooth, easy-flowing vocals and the appealing acoustic guitar element, it's a winning combo in my book! Not to mention the music video to "Summer Nights" is also very well-done and incredibly inviting to viewers. So what do we have to do to get "Summer Nights" in heavy rotation right now? Because this song needs to be playing all over the Pop/Rock radio stations for all to hear as "Summer Nights" has that real human touch 'n' appeal. What can the Skope Universe and I do to help get "Summer Nights" major radio airplay?
"Summer Nights"
https://youtu.be/woB2LRtIsgw
Josh Rivers: Honestly man, you're doing it. The fact that anyone would take the time to listen to my music is so incredibly humbling. The positive feedback that I've gotten from you and so many others truly brings me joy. Talking about it and sharing with your friends is what every artist looks for and Skope is really doing that. I can't thank you enough.
Audio:
https://www.reverbnation.com/joshriversband/songs
J Rae: I can't help but notice that you have a real cool, singer/songwriter vibe about you and wondering where that style comes from? What inspires you to write, perform and record songs as a singer/songwriter?
Josh Rivers: I never want to try and be something I'm not. I like being comfortable in my own skin and I've tried working as a band and in group projects but never really enjoyed it as much as what I do now. The singer/songwriter style is what fits me best. I love writing songs and I'm not the worst singer I've heard so it allows me the best of both worlds.
J Rae: The songs I've heard thus far by The Josh Rivers Band have a very positive vibe & feel and so do you feel your music can shed some much needed, bright light on this troubled world and also help make a difference in the way people act and react in certain situations?
Josh Rivers: I really hope so. As I mentioned earlier, I spent my childhood in a cult. We were cut off from society for the most part and it wasn't a happy time. I was abused verbally, physically, mentally, and sexually. I always thought things would be different when I got out but they really aren't. Seriously, you guys have the same shitty problems I had in there. What I've discovered is it doesn't matter where you are or where you come from. You are going to find shit and shitty people because the world isn't inherently good; it's dark and kind of ugly. If you want light you have to go make it. The good you see in the world comes from someone who purposefully created it. And that's what this album is about. Light can come from darkness. You just have to get off your ass and go make it.
J Rae: So I see there's a brand new, debut album in the works from The Josh Rivers Band which has to be real exciting I'm sure! How far along is this project, is there a set release date at this time and what can listeners expect to hear out of this new Josh Rivers Band album? Also, is there a title for the new record yet and if so how did you come up with it? Lastly, are there any plans of extra touring/gigging to help promote the upcoming album?
Josh Rivers: I am very excited about this question. I have just finished recording my first full-length album and we are working on getting a release date together very soon. This album is kind of my homage to my childhood. Not because it was great but because it made me who I am today and I kind of like that guy. The album will be self-titled, 'Josh Rivers – Summer Nights'. Since the album is my story, the self title seemed fitting. I am currently working on getting a tour set up for next summer through fall and will start messaging out dates once we get them finalized.
By Jimmy Rae – jrae2@att.net