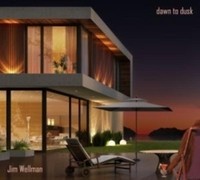 Effortlessly combing elements of funk and jazz into a satisfying whole, Jim Wellman's "Dawn to Dusk" is a pure pleasure. The songs are luxurious with infectious bass lines, sly guitar work, and gleaming keyboards. Slinking by ever so slowly every single part of the album shines. Vocals rise above the immaculate arrangements adding a sense of tenderness and darkness into the mix. Colorful in textures and hues, the songs work together to create a satisfying whole.
Lead single, the hooky but scathing "Probably Good" via Soundcloud
https://soundcloud.com/user-768190110/probably-goodradio-edit
"Dawn to Dusk" opens up strong with the urbane "Lucy". Here the lyrics are clear, concise, and highly articulate. Flourishes appear throughout the song showing off Jim Wellman's undeniable skill. A more languid approach defines "Lewontin Campbell" as the bass guitar serves as the song's backbone helping to support the entire piece. With a summery sound is the bossa nova inflections of "Probably Good". The groove's warm invitation is irresistible as the song's dreaminess makes it a clear highlight. Light and nimble "Night Of The Meme" has a gracious touch, courtesy of the tender vocals. Positively playful is "Red Or Blue" with its fanfare occasionally punctuating the song. On "Happy Song" Jim Wellman goes for sharp, biting lyrics with a swinging rhythm. Absolutely all-encompassing is the heart of the album, "Cynical Century" which neatly brings all the many elements into a single track. Ending the album on a high note is the pitch-perfect "Let The People Rule Ya".
Smart, stylish, and sophisticated, Jim Wellman's "Dawn to Dusk" is a true pleasure.
https://www.facebook.com/people/Jim-Wellman/100010882127031
Posted by Beach Sloth