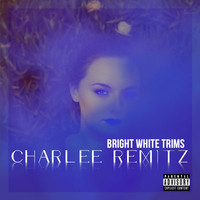 Hailing from Montana, up and coming pop Charlee Remitz drops her debut album Bright White Trims. A shifty mixture of club friendly, beat-driven tunes and darker, ethereal indie electro pop, the record packs plenty of vibes into eight fresh, infectious tracks without overstaying its welcome. The production emphasizes the multi-layered keyboards, dub step thumps, and Remitz's charming, multi-tracked vocal melodies.
"King's Cup" is an immediate opener kicking off with a shimmery synth loop that continuously cycles its repetitions over a percussive bump n' grind heavy on the bass. Charlee's croons dip from traditional pop melodies while packing an r & b/rap sensibility especially on those big bright choruses. Comparisons could probably be made to Taylor Swift, Kelly Clarkson's second more dance friendly album and some of Blondie's remixes. It's a good listen for when the sun goes down and you're about to go out on the neon lit city. The echoing, reverberating indie guitar progressions add a different feel to "Fillin' in for a Goddess." This one's not as immediately poppy and bouncy as its predecessor, coming off like a peppier, darkwave Lana del Rey with gangster style lyrics delivering a similar amount of edgy, somewhat profane lyrics. Remitz's style is definitely different favoring a danceable, downbeat techno sound over Lana's gritty lounge act, but there are noticeable similarities. A slick hook is imbedded deep within the song's inner-workings thanks to vocal layering that repeats the melodies like clockwork until they are committed to permanent memory.
Playful keyboard FX creates playful, treble-heavy rhythms in the early going of "Cake Eater." Auto-tuned backup vocals mirror Charlee's lead nicely as the beat washes over the listener like peaceful ocean waves. The lyrics are far from G-rated and it gives this trippy pop sound a bit more adult content than most are willing to attempt. Cut ups and mashes are applied to the multiple beat redirections and softer breaks see the vocals and instrumental keys adopting sweeter touches before the chorus brings in a slightly harder thump with another pleasing vocal melody. "BMW" is more street level with its rap-influenced keys and deliberate, percussive syncopation with lyrics that ring true with a similar materialism found in the vocals. Only Charlee's case it's not about her stuff, but the boy who chose to replace her with a brand new car. The rhyming isn't forced and, even though the phrasing is mostly laid out in rhyming couplets, Remitz never lets you forget she'd rather ignite the dancefloor than be the soundtrack to a drug deal. There is no doubt that "Bitches and Ladders" is a much more straightforward attempt at buoyant, subwoofer shaking rap defiance, but the pop sensibilities shine through amidst a barrage of sampled handclaps and teasing synth grooves juxtaposing themselves against a staccato rhythmic grind.
Returning to the club and hoping to kick bodies into motion "Juicebox Season" dabbles in sultry indie-pop tinged r & b topped off by smooth house influences. It's another catchy number where the keyboards soar and roar as if they'll unleash a full techno fury at any moment, but the music stays within the confines of a polished mid-tempo. "Stucco Houses" works with the same format though drops the pace a notch and replaces the busy beats for an emphasis on dreamy keyboard melodies. This is the album's most obvious ballad and it sticks out as one of the album's strongest tracks. Bringing in a little bit of reggae guitar, closer "Routines" lifts the mood up with a lovable, poppy swagger; rounding the album off with some appreciated variety.
In a crowded pop pack, Charlee Remitz combines the best of several styles and artists into her own thing on Bright White Trims. Some of the lyrics tend towards the juvenile which don't always work in Remitz's favor, yet the singer/songwriter displays a strong ear for dynamics that elevates her material above all of the G-rated pop fare out there. For that merit alone, Bright White Trims stands out as something special and makes Charlee an artist to watch in the future. There's no reason she shouldn't be picked up by a major label with the quality of her work on this album.
William Elgin
Primary URL: http://charleeremitz.com/
4/5 Stars