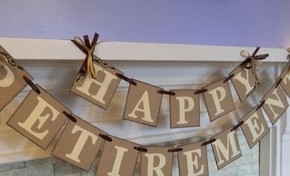 So, your boss is retiring, and it's up to you to plan the party. You want it to be a special occasion, but also lighthearted and full of memories of their years of service to the company. The company will probably pick up the tab for the food, drink and event location, but it's up to you to run the show. Below are a couple of tried and true ways to honor a retiree and have a bit of fun in the process.
Start a Photo Collection
It may be difficult to locate photos from the very beginning, but be diligent. Ask other employees of the same tenure, and your boss's spouse if they have any photos that can be used. Search the archives for long-lost memories as well. A good number to shoot for is 100, and you can get double duty out of them by creating a slideshow that runs for the duration of the party and making them into a photo book, sure to be a keepsake for years to come.
Decorate Based on Interests
Think about all the different hats your boss has worn in their career and theme each table centerpiece accordingly. For example, if they were a teacher, parent, knitter, volunteer firefighter, or mentor, a note at each table with a brief description of why these items were included, and a collection of the items gives lots of personal interest at the party. For a teacher, include laptop, pencils, books, etc. If the retiree is a parent, include photos of their spouse, children and/or grandchildren. You should easily be able to come up with five or six ideas, and friends and family can help you collect memorable items that will be low-cost alternatives to fancy centerpieces.
Create Your Own Games
Have a party game that centers around the retiree by giving a pop quiz on them. The key is to have enough commonly known answers everyone might know, but enough trivia to make it fun. Offer a small prize to the winner.
You could also set up a karaoke contest for everyone to participate in. Business meeting locations like Noah's Event Venues can provide sound systems and machines if you don't have all the equipment yourself.
Try an Alternative Theme
Don't stick to a tired old retirement theme if you can help it. Try something interesting like a party titled, "Things that Don't Work Anymore" where guests bring wrapped, broken items to the party. The guest of honor unwraps the gifts, culminating in opening an alarm clock and smashing it before they cut the cake to represent not having to get up with the alarm every morning.
A retirement party should be entertaining and most of all, memorable. It's an occasion that usually only happens once in a lifetime, so it's important to make it special. Use these ideas to make yours a hit!
Brooke Chaplan is a freelance writer and blogger. She lives and works out of her home in Los Lunas, New Mexico. She loves the outdoors and spends most her time hiking, biking and gardening. For more information contact Brooke via Twitter @BrookeChaplan.