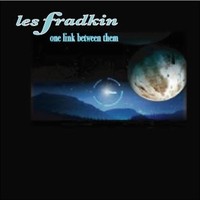 A musical genius is at work here and the composition at hand is called 'One Link Between Them'. Les Fradkin has created an out-of-this-world sound with his one-of-a-kind Starr Labs Ztar MIDI guitar. Sounding like no other, Les combines space rock with futuristic & classical elements where you will get one innovative blend of audio goodness. You get synthesized sensations on Les Fradkin's Ztar that will blow your mind; the playing is off the charts! Prepare yourself to take a voyage into the wide world of sound on 'One Link Between Them'.
Les Fradkin "Guitar Gods"
https://www.youtube.com/watch?v=eU3HaApYZ-0
This record is like nothing I've ever heard before where every single song is intricately produced and the arrangements are carefully designed with the utmost precision. There are 10 well-thought-out tracks on this album where each number has its own identity and its own style. The music is insightful, sophisticated, fresh & new where your musical palate will be on fire with an array of different flavors hitting you. Les Fradkin and 'One Link Between Them' will surely quench your appetite for highly original material.
The first single off of the record is called "Lift Off" that will lift your mind and your spirit taking you on an incredible journey through the land of Ztar. "Lift Off" was actually sent off as a video entry (https://www.youtube.com/watch?v=eU3HaApYZ-0) for the popular Guitar Gods Festival in February (http://www.guitargodsfestival.com/artists/). Les Fradkin is fighting for a chance to play with greats like Steve Vai, Yngwie Malmsteen, Nico McBrain & Rudy Sarzo. You can actually vote for Les by clicking on his "Lift Off" video entry link and then while you're there give it a thumbs up, share the video and leave a comment. Les Fradkin definitely deserves to be part of the roster at the Guitar Gods Festival in Miami, so let's get him there and lift him off into the winner's circle and onto that stage! The next installment on 'One Link Between Them' is "Orbiter" where the listener will get a deep-space groove that rocks the galaxy as Les Fradkin shoots & strums for the stars. Next up is "From Venus With Love" that is an overload & explosion of audio and intergalactic sound that will satisfy your senses. Track four, "Liberty" is actually a Steve Vai cover where one will be saluting this cool instrumental in all its glory. Following along you'll hear "Caravan" that is a tune by The Ventures that will get you moving like there is no tomorrow. You get a tribal beat here that is mysterious yet infectious while you enjoy the ride on the "Caravan". Track six, "Warp Drive", provides emphatic playing from Mr. MIDI himself while track seven, "Sailing All Alone", sends off a somber & subtle feel while also proving to have an emotional & tranquil touch. "Longing To Return" offers up a very powerful & moving sound that really hits you inside and also contains a well-orchestrated melody that's pleasing to the ears. "A Dim Twilight" is anything but dim or dull as you'll get an overly cool vibe that sucks you right into Les Fradkin's diverse world. Les finishes the show with a cover by The Tornados called "Telstar" that has a catchy hook with Pop & Progressive sensibilities. I even thought I picked up on some ELO influence at times on "A Dim Twilight" and my ear is trained well for this especially since ELO is my all-time favorite band.
"Lift Off"
https://www.youtube.com/watch?v=Bvc6u5t1yG0
'One Link Between Them' is a masterful piece of work and honestly one of the best Instrumental albums I've ever heard. Les Fradkin proves that he is King of the Ztar as he creates magic on this intuitive instrument and makes it sound like a million bucks. The rich notes & textures will keep you fully engaged from beginning to end. 'One Link Between Them' is one hell of a listening experience that I thoroughly enjoyed and appreciated. Electronic space rock with a classical & progressive twist comes across so brilliantly and effortlessly by Les Fradkin. 'One Link Between Them' proves that Les Fradkin is not just a Guitar God but more importantly a Ztar aficionado with an exquisite taste for music. Mr. MIDI, Les, I salute you and this fine-tuned and finely-crafted record of perfection.
5/5 Skopes
By Jimmy Rae + (jrae2@att.net)