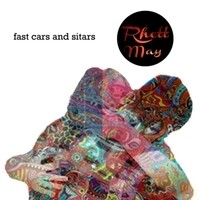 Rhett May has put together his best effort yet, in my opinion, with 'Fast Cars And Sitars' where the recording quality is top of the line. Vocally & musically, Rhett May has outdone himself on his latest release. 'Fast Cars and Sitars' is pure perfection where Rhett's Indian roots meet Rock & Roll fever. Whether you like guitars or sitars, John Lennon or Ravi Shankar—in the words of Billy Joel "It's Still Rock And Roll To Me". And Rhett May does a beautiful job of blending the two worlds together on 'Fast Cars And Sitars'.
All songs were recorded and produced by Rhett May & James Payne and all vocals & instruments were provided by Rhett May and James Payne. There are 10 songs featured on 'Fast Cars And Sitars' and honestly every single song is phenomenal. I can't pick out stand-out tracks here because each song is great in its own right and each has its own unique flavor. Overall, I'd say this album is an awesome throwback to the classic rock scene where the listener will hear groovin' rhythms, psychedelic elements and steady rock tones 'n' beats. Many of the tracks on 'Fast Cars And Sitars' have a slowed-down rock tempo that was originally made famous by the one and only Pink Floyd.
"Rich Bitch" Video
https://www.youtube.com/watch?v=ZSd24mXyjsA
My overall reaction to this record is that the music is infectious & captivating to the point where the total sound will stick to you like crazy glue! It's cool, it's hip, it's catchy, it's classic, it's convincing and it's powerful; Rhett May has got you covered from beginning to end. The first single off of 'Fast Cars And Sitars', "The Violence of Ice", has done extremely well since being released where the song won Best Rock Ballad by Akademia
(http://www.theakademia.com/november2015_bestsong_rockballad4.html) and "The Violence of Ice" also picked up two awards by Beat100.com for Top Production, Music Video and Song Quality. I couldn't agree more with these accolades as "The Violence of Ice" is a potent anthem that brings awareness to the dangers of this drug. Primarily targeting women and children and the harm & damage that Ice causes, Rhett May has created a world here that is both melancholy and rockin' all at the same time. Throw in some rad voice/audio effects on "The Violence of Ice" and you have yourself one complete & dynamite tune. And it's worth nothing that the music video for "The Violence of Ice" is approaching 65,000 views on YouTube! (https://www.youtube.com/watch?v=xO1QgUu9oxw)
The next track and single is "Rich Bitch" where you're getting a real 70s-styled rocker that's loose and so much fun to listen to. And the music video for "Rich Bitch" (https://www.youtube.com/watch?time_continue=1&v=ZSd24mXyjsA) is just as good where it will be sure to stimulate your senses of sight and hearing. "Drifting Dreaming" is the third installment on 'Fast Cars And Sitars' and has such a catchy, calm & cool tone that will put your mind, body and soul at ease. Not to mention the voice/audio effects are so appealing and pop out at you helping bring "Drifting Dreaming" (https://www.youtube.com/watch?time_continue=1&v=ZSd24mXyjsA) to life. "So Delicious" dishes out a very appetizing style of sound that is radio-friendly all the way while Track 8, "Grim Reaper", is one rock and roll gem that provides a WOW factor. That heavy Indian influence comes through loud & clear on "Cute Calcutta Boy" and also on track nine, "I Am Everywhere" that also displays some super sweet melodies 'n' harmonies. You get one hell of a groove on "My Baby's Got Style" that hooks you in immediately and comes across as one sharp dressed song. Rhett May closes in style on "Black Widow" strumming out some overly catchy guitar riffs that stand out in a BIG way and prove that Rhett May is a BAD man!
'Fast Cars And Sitars' and Rhett May have been featured & spotlighted on 3000 Records, which is an independent record company. Rhett should be very proud of this album as I think it's his best work to date and an absolute pleasure to hear. Everything works on this record from A-Z as Rhett May and James Payne created pure magic & lightning in a bottle here. 'Fast Cars And Sitars' should be heard and appreciated by millions with 10 rock-solid songs that are way too good to pass by.
5 Skopes
By Jimmy Rae + (jrae2@att.net)