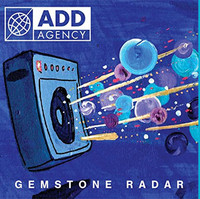 Add Agency's "Gemstone Radar" recalls the best of slinky 80s late night pop. With a sound that would not be out of place on James Murphy's DFA Records Add Agency's "Gemstone Radar" creates infectious anthemic songs. Full of surprises Add Agency deftly includes elements of dance, synth-pop, and rock into a coherent bewildering whole. Songs reveal a real sense of play as Add Agency lets the songs explore unique shimmering terrain.
Stream the full record:
https://soundcloud.com/add-agency/sets/gemstone-radar-1
Opening up with hushed everything is the delicate "Bootypop". From such quiet origins the song comes into bloom halfway through revealing a true sense of song craft. Recalling the low-slung simplistic grooves of Liquid Liquid with a slight edge is the joyous "Set Me Free". Employing a krautrock-like rhythm is the economical sprawling work of "Sky Won't Fall". Within the seemingly minimal execution there is a plethora of color that is revealed through the smallest of flourishes. By far the heart of the album the song's fragility is nearly broken by the elegant guitar work that punctuates it in all the right places. Absolutely bubbling over in energy is the aptly named "Motivation". With a vocal delivery akin to John Maus is the driving rhythm of "Secret Agent Man". Ending things on a high note is the heavy bass of "Cola". Whispered lyrics add to the sense of intimacy as the song's neon-hued synthesizers brings the song to a close.
Watch the new video for "Booty Pop" here:
https://youtu.be/aueogw7KJfY
Carefully crafted and meticulous in execution, Add Agency's "Gemstone Radar" recalls the fun of the 80s.
Listen to public tracks at Soundcloud:
https://soundcloud.com/add-agency
Posted by Beach Sloth