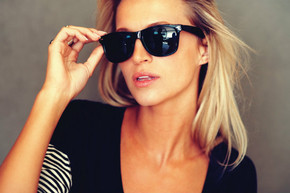 Have you ever wondered where your favourite brand of designer sunglasses are from and how the brand originated? Whether you love your classic Ray-Ban Wayfarers or swear by a pair of luxury Prada shades, knowing more about the history of a favourite brand can help you feel more connected and loyal to the name that you always choose to buy. We've selected some popular sunglass brands and found out where they originate from and how they came to be.
Prada
Italian fashion house Prada doesn't just offer sunglasses, they have a range of luxury designer goods including clothing items and accessories, including a range of luxury leather handbags. Started by Mario Prada in Milan in 1913, the brand began by selling luxury leather goods, and was soon a main stockist to the Italian royal family. Now run by Miuccia Prada, the brand is a worldwide household name, and is well worn by many A-List celebrities. Their ever-growing range of sunglasses is hugely popular.
Ray-Ban
Ray-Ban sunglasses are one of the most popular and best-selling of all the high-end sunglass brands. Popular with both celebrities and the general public, Ray-Ban's classic designs such as the Aviator and the Wayfarer styles have been shown in many different movies including The Blues Brothers movie and Risky Business. Founded in 1937 by Bausch and Lomb, Ray-Ban sunglasses were first created for the U.S. Army Air Corp, who were looking for a style of sunglass which would protect aviators from the dangerous rays of the sun, but would also look stylish and fashionable on the dashing airmen.
Gucci
Gucci sunglasses are a hugely popular designer brand of sunglasses that have been seen on many prominent celebrities over the years, including Jackie Kennedy, Grace Kelly and Audrey Hepburn. During the 1990's, designer and film director Tom Ford also worked for Gucci, adding to the brand's luxury and designer status. Founded in Florence in 1921 by Guccio Gucci, the brand sells a range of fashion products including clothing, leather goods and other accessories and is a household name known worldwide for luxury and sophisticated products.
Oakley
Founded in 1975 by Jim Jannard, Oakley began as a small company based in a California garage which designed handgrips for motocross. Named after the owner's English Setter dog, Oakley, the products soon became a huge hit in the motocross world, as they increased grip and tackled perspiration. In the 1980's Jannard started making motocross goggles. Almost as soon as the product appeared, the O-Frame goggle quickly became a firm favourite with professionals such as Jeff Ward, Ricky Johnson, Mark Barnett and Johnny O'Mara. For a full eighteen years after their release, no other motocross goggle could compete with the O-Frame. It wasn't long before Jannard began to produce Oakley sunglasses, turning eyewear into a vital tool for athletes worldwide. Today, Oakley have a growing list of six hundred patents in eyewear.
Which are your favourite designer eyewear brands? We'd love to hear from you – leave your response in the comments below.