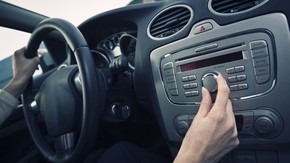 One of the best things about being on the open road is turning your music up loud and belting out your favourite tune. It's the time and the place to drop any embarrassment and belt out a song to your heart's content.
If you're still learning to drive then you don't know the unparalleled joy that awaits. Drivers new and old all need a bit of car karaoke in their lives.
Here's my best ten driving songs of all time – all pure gold that stand the test of time and deserve to be on your playlist:
1) Reef: Place Your Hands – Who can resist singing along to the chorus of this one? With the return of TFI Friday to our TV screens, you'll remember the band for their rendition of "It's Your Letters" to the tune of Place Your Hands. Either version is fine in the car!
2) Iggy Pop: The Passenger – The punk rock song that is (slightly) based on a poem by Jim Morrison is famous for its catchy riff and features David Bowie in the chorus.
3) Bruce Springsteen: Born in the USA – One of the biggest selling songs of all time with more than 30 million copies sold since its release in 1984, go big and belt this out behind the wheel.
4) Europe: Final Countdown – Reaching number one in more than 25 countries, this track is a real sing-along belter. Leave the air guitar part to your passengers while you drive though.
5) Bonnie Tyler: Holding Out For a Hero – Bonnie Tyler at her best back in the 80s, this was one of the main songs from the movie 'Footloose'.
6) Bon Jovi: Living on a Prayer – This has become the signature tune for Bon Jovi. There is no need to say anymore. Stick it on and sing away.
7) B-52's: Love Shack – If you are feeling the love then head down to the little old place where we can get together, aka the 'Love Shack'. This B-52's feelgood song will really get you in a fun mood.
8) Tony Christie: (Is This The Way To) Amarillo – Made popular again in recent years by Tony Christie with a little bit of support from Peter Kay, the original 1971 song is all about traveling to find your love. It will always get any car journey or party going!
9) Motorhead: Ace of Spades – Whether you're a big heavy metal fan or not this is still a tune to give you an adrenaline rush. Perfect to wake you up on a gloomy winter's morning.
10) Faithless: Insomnia – Turn back the clock 20 years (yes, really) to those Ibiza days and energize yourself and your fellow passengers with this dance classic. If you can get your hands on the original album version you will have a nine minute treat. The chiming bells at the start – a highlight in my book – were edited out of the club versions of the track.
Now you have been inspired and your memories have been awakened then get making your own mix tape to play in the car. Have a look at MixPixie.com to make your own customized CD. Safe driving.