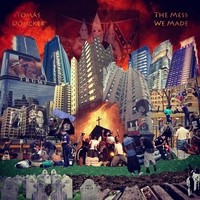 Fiery and funky, Tomás Doncker's "This Mess We Made" hits hard. These are songs directly from the heart. With close attention to thoughtful lyricism the songs possess deep meaningful messages. Indeed, vocals are the focal point of the album. Everything else revolves around Tomás Doncker's vocals. Rhythms are infectious, riffs are playful, and there is an overall sense of purpose.
Stream the single Church Burning Down: https://soundcloud.com/tomasdoncker/church-is-burning-down
A physicality defines the heavy "Some Ol Dolls" which opens up the album. Full of frenzied energy is the drum n' bass inspired work of "Church Burning Down" by far the highlight of the album. Lots of energy is built into the piece as the song effortlessly brings the rhythm and melody into a frantic whole. Opening up with fanfare is the lush sound of "The Revolution" where Tomás Doncker's realism comes out in full form, showing off the unfortunate influence of corporations on literally everything. Delicate in nature is the deliberate "Mess We Made". Stripped down to the basics is the tender "Don't Let Go" with the acoustic guitar giving it a naturalistic feeling. Bringing the album to a close is the contemplative "Time Will Tell" which ends things on a high note.
"This Mess We Made" shows off Tomás Doncker's impressive incredible talents with pitch perfect arrangements and spirited delivery. On Tomás Doncker's "This Mess We Made" the songs are felt as much as they are heard, for these are emotional pieces based on the state of the world today.
https://www.facebook.com/TomasDonckerMusic
Posted by Beach Sloth