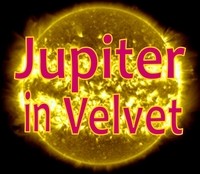 Jupiter in Velvet has a new single out called, The Beauty of U. This nomadic soul has an emotive retro sound that turns our clocks back to a time when there was a wide variety of styles on top 40 radio.
"The Beauty of U" Audio
https://www.reverbnation.com/jupiterinvelvet/song/24126505-the-beauty-of-u
This is a hooky blast from the past, with sincere conviction and spot on production with a smooth voice to execute it all in a nice package. I dig this guy's vibe. There are powerful guitars but yet, they are not overpowering. There is a perfect amount of soaring jams and then comes back down to earth with a calming pulse.
The lyrical content gives the impression of young angst, but is a sincere confession of a lovesick heart. It is sold by a smooth graveled voice with melodic compassion. He does not settle for less, it is a well thought out one man band with a plethora of instrumentation. There are highs and lows, then a slow build to a faster tempo that creates a roller coaster of emotions.
Jupiter in Velvet is a bit of a mystery which is a part of the intrigue. This traveling musician shares his experiences through every note in this latest effort, The Beauty of U. The beauty of him is you can listen to this song over and over and it never gets old. Come discover the ride for yourself I guarantee you will not want it to stop.
I rate this 4 out of 5
https://www.facebook.com/JupiterInVelvet/
http://jupiterinvelvet.com/
Rebecca Hosking – hoskingrebecca@gmail.com – http://www.rebeccahosking.com