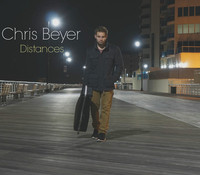 Masterfully merging elements of pop and shoegaze Chris Beyer's "Distances" is an absolute delight. Best taken in as a whole "Distances" is sequenced as if waking up from a dream. From the subdued "Intro" to the blazingly hot "Medicine" Chris Beyer traverses through it all. Tying everything together is his reassuring vocals. Remarkably tasteful the songs are impeccably arranged from the crisp rhythms to the comforting warm guitar work.
https://chrisbeyer.bandcamp.com/album/distances
"Intro" begins things with a mere whisper. Patiently the song builds up and nicely flows into the phenomenal work of "Sway". By far the highlight of the collection the song's soaring sparkling guitar work helps to move the piece forward. Rhythms work to the song's advantage helping to emphasize otherworldly nature of the lyrics. Lighter in tone the brisk "She's On Fire" takes on an intimate feel with the crystal clarity of the acoustic guitars working wonders. Economical rhythms take hold on the delicate and fragile work of the aptly named "I've Had Enough". Well-constructed the song twists and turns revealing its charm. Smooth and luxurious is the sweetness of "Bad Luck". Kept stripped down in style the song's laid back almost jazz-like rhythm shows off Chris Beyer's skill at building atmosphere. Optimism defines the sweetness of "I Hope So". Bringing the collection to a downright brilliant close is the powerful muscular build of "Medicine" whose attention to detail is impressive.
Welcoming and warm, Chris Beyer's "Distances" displays the power of pop.
https://www.facebook.com/ChrisBeyerNY
Posted by Beach Sloth