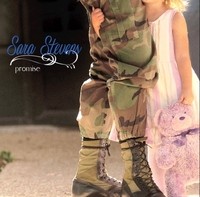 Sara Stevens is a classical crossover singer out of Marietta, GA. At the young age of 15 this magnificent songstress displays pure precision with her voice. She uses her instrument to display her original composition, PROMISE with angelic conviction.
MP3 or Video Link:
https://www.youtube.com/watch?v=5wl3gLoEFF4
Stevens is a force with impeccable skills unlike anyone I have ever heard. The control she has over her vocals is an accomplishment all its own. The fact she is such a young lady is even more mind blowing. Every single note soars into the air like a bird whipping through the clouds, chasing the wind to reach the heavens.
The song is a heartfelt story coming from a child sending prayers to her father while away in combat. I imagine there are many out there that could relate to the words and feel the emotion the voice evokes. The song almost travels across the miles on its own with grace and prayers for our beloved soldiers to safely return home.
Sara Stevens shines with her song, PROMISE, a heartfelt ballad performed by an absolute angel. Not often am I left without words but this is a breathtaking effort by a beautiful young lady. Keep soaring, I look forward to hearing what she does next.
WOW!! I rate this 5 out 5
Website and/or Social Media:
http://www.sarastevensmusic.com
SOCIALS:
https://twitter.com/sstevensmusic
https://www.facebook.com/sarastevensmusic
Rebecca Hosking – www.rebeccahosking.com – hoskingrebecca@gmail.com