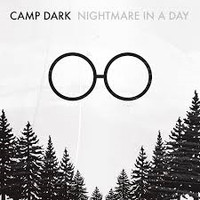 Camp Dark is a new MPLS band featuring singer/songwriter Adam Svec & producer/drummer Graham O'Brien, featuring contributions from: Dan Choma, Matt Friesen, deVon Gray, John Keston, Matt Leavitt, Robert Mulrennan, Casey O'Brien, Chris Salter. Camp Dark's first offering, Nightmare In A Day, (or Beware the Night) started as a song skeletons composed by Adam Svec and Graham O'Brien. The meat on the bones was added by a list of wonderful players (see the list of contributors). The arrangement of the limbs, direction of the hair, and shade of the makeup was largely generated and organized by O'Brien. This collaboration initially started shortly after Svec's third solo release, Weaks In The Waves, for which O'Brien played the roles of instrumentalist, engineer, and producer. The first installment of their collaboration, in conjunction with the writing and playing prowess of Casey O'Brien, arrived in the form of Proofreader. Zero Squared in 2013.
The CD methodically takes off with Dixieland a melodic yet ambient intro piece that serves up hypnotic rhythms, with pulsating bass painted against a colorful canvass of music box sound effects, too Hypnotic keyboards and that comes at you from every which direction. Track 2 "Are You Hiding" presents a kaleidoscope of soothing sound featuring vivid vocals, dynamic melody, eloquent strings that that flow and ebbs its way through fruition. By track 2 you realize "Camp Dark" may be on to something very creative here as these ambient recordings are diamonds in the rough – but diamonds nonetheless. Track 3 "Charlie" shifts gears a bit with its rock steady beat against mesmerizing vocals, keyboard and synthesizer accents with hypnotic walls of sound that are infectious and hypnotic. As the CD slowly unfolds I can hear so many elements of Trance, Ambient, I could be wrong but Influences perhaps are: Moby, Cocteau Twins, Depeche Mode, Digby Jones, Oakmen, Canis, Sutra, Flipside, The Man Behind C, Bhangralution, Techno, Chill, Dub & House rhythms painted against a clever industrial canvass of NES gaming-type sound effects. You will also notice lush layers musical instrumentation layered everywhere from low end beats and rhythms, to pulsating moog and bass segments, to ambient synthesizer and keyboard accents layered along the way. You will also notice guitar, keyboards, Moog Bass, Piano, Eloquent Strings, Orchestral accents, sonic vocal and sound effects, electronic beats and sporadic percussive accents, exotic phased sampling layered within the music. The songs themselves are extremely unique, highly original, and in itself highly original. The sound-scapes are interesting, infectious, and hypnotic. The grooves and rhythms are methodical and well placed and the ambient accents are well placed and flow and ebb extremely well song for song. I like the vocal delivery from Adam Svec. Other band members include: Graham O'Brien, featuring contributions from: Dan Choma, Matt Friesen, deVon Gray, John Keston, Matt Leavitt, Robert Mulrennan, Casey O'Brien, Chris Salter. The CD has some truly impressive moments on it showcasing an impressive songwriting and arranging core craft. This CD has something for just about everyone. It's definitely a dynamic and somewhat electro-progressive that offers a lot of musical variety and vivid sound imagery that push the envelope. From dynamic "Are you Hiding" to methodical Charlie" to rock steady Arm Are You Ok" to striking "Family Curse" to melodic "Bluff" this CD has something for just about everyone. CD ends with Track 13 "Words that Don't Exist" the perfect finale statement for a CD of this caliber.
I wish there were more solo segments. At the end of the day this CD and all its instrumentation come across as overly synthetic and sounds a bit one dimensional – although some of this is par for the course for the genera. Rhythm section lacks thick low end frequency and punch. To go with the first comment – adding in a live drummer to go with the Electronic Drums, or bringing in an experience beat master would totally clear this last issue up. All songs over 4 minutes tend to drag you to the finish line, all songs under 3 minutes feel like incomplete statements to me. Mix is adequate but doesn't swim in the deep end of the pool with pro-caliber ambient recordings. Typically you want your recording, Mixing and Mastering Engineer to be separate individuals to get the broadest perspective on your music during post production. Vocally I wish all vocalists took more vocal risks overall as they elect to play it safe overall. Although I do enjoy the harmonies.
Overall this release from Camp Dark entitled "Nightmare in a Day" is actually quite amazing. Make no bones about it – this CD took some time to craft and piece this collection together. Equally as impressive are the hypnotic dance grooves, electronic rhythms and beats that come with the territory. This will also appeal to those who enjoy Techno, and House-type music. Finally let's give credit to musical mastermind Adam Svec who wrote all this music and brought it to our ears in the first place. The CD works best for those who want musical ambience to fill their sonic space. I found the listening experience quite refreshing, highly original and unique. It fills the space peacefully and unobtrusively. It flows extremely well song for song and note for note. Camp Dark is a force to be reckoned with if he can incorporate some upgrades into his overall sound.
Label: Independent Artist
Website: http://www.campdark.com/
Genre: Progressive Ambient, Chill, Electronica, Dub
Sounds Like: Moby, Cocteau Twins, Depeche Mode, Digby Jones, Oakmen, Canis, Sutra, Flipside, The Man Behind C, Bhangralution,
Technical Grade: 6/10
Production/Musicianship Grade: 7/10
Commercial Value: 7/10
Overall Talent Level: 8/10
Songwriting Skills: 7/10
Performance Skill: 7/10
Best Songs: Are You Hiding, Bluff, Charlie, Family Curse
Weakness: Winded songs, more live instrumentation, more solos, overly synthetic and one dimensional, no liner notes, more vocal risk-taking
Cyrus Rhodes