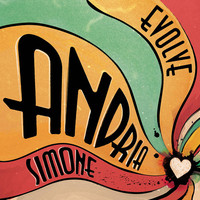 BIO: Andria Simone was born and raised in Toronto, Ontario. Her style can be described as "soul-flavoured", but she is a lover of many genres. Her eclectic taste in music can be partly attributed to the various places she has lived, including Manchester, England and Lviv, Ukraine. Her latest 11 Track effort (Evolve) presents a starkly creative sound and a roster of ultra-talented musicians. It's fair to say listening to the first track Simone is a bit overqualified within the modern electro-pop realm. As I suspected she ventures into Classic-Blues-Pop territory almost like Adele as well thus creating a richly textured atmospheric and sound that envelops you with her sweet and soaring voice. Overall Internet presence is slowly taking shape as I learned a few things about him even before I hit play.
The CD doesn't exactly hit the deck running with the strong initial track "Torn". It's somewhat striking reminiscent of some of Adele's starker material. Her somewhat melancholy voice, are well paired with her songwriting skills and impressive players makes for a strong culmination of genuine emotion moving forward. Lyrics and music are very well thought out/put together. I was instantly hooked to keep listening. Subject matter is equally tied to musical setting and delivers well-crafted vocals and emotional tranquility. Equal parts heartfelt emotion and soothing Organ, Piano, Horns and Guitar, Simone and company paint images in creative, yet relatable ways. It's evident to the ear that much time has been invested in crafting each song to stand on its own, separate from the next. All tracks are superb. The overall mix of this album is impressive without any over the top theatrics. As a producer I always say "Just let the music do the talking." It also refuses sounds like a bare-bones PC recording, or even a live performance. This contributes to the overall impact of the songs.
As I made my way from start to finish, there is a pleasant tonality that was definitely palpable in nature when listening to the vocals. However as the album moved forward I realized something amazing about Simone. Most modem singers have forgotten how to sing a song the way it was meant to be sung. No Showboating, just in the pocket with perfect emotions compatible to the moment. Bottom Line: we have lost our way in music, and it takes an artist like Andria Simone to fully realize this fact. Simone knows how to properly sing a song. Most certainly Simone and her band have a knack for crafting imagery and instrumentation to complement his vocal style. Vocally I can only describe this as "vocal touch and finesse" and Simone handles everything with intriguing vocal grace and some gritty power every now and then.
Top tracks for me include the title track, Torn, Beautiful Life, Holdin' On, revealed
Overall, this is a very impressive release by Andria Simone. I only wish I could get all my music this good every week. "Evolve" by Andria Simone is an absolute pleasure to listen to. It was also invigorating to get into her mindset track to track. It will hold a place in my fascinating play list when I really need it.
Simone is a master at bringing together all the flavors of many different musical styles and genres into one album called "Evolve". She is armed with great writing team, a brilliant creative mindset and a vice that will touch the soul. Her music is highly original and will no doubt evolve over time into something truly groundbreaking as more become aware of her.
Final Rating: 4/5
URL: http://www.andriasimone.com/
Purchase Link: https://itunes.apple.com/ca/album/evolve/id966968516
Nick Watson