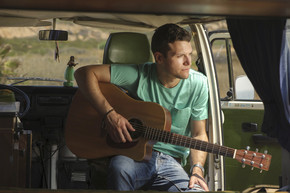 The 5-track 'Oceans' recording will be released on 20 November, supported by his recent oversubscribed Pledge campaign, and an exclusive stream by Gibraltarian broadband provider U-mee. The title track/lead single, Guy's most indie-folk influenced and urgent yet, will be released on the same day.
In 'Oceans', gentle rhythms melt under his acoustic pop tones, and that distinctive yet classic vocal remains throughout. 'Nargis' and 'Woolfe's Beach' however, see the pace change and Valarino flit between indie folk and dynamic rock. It's breezy, mature, heat-rending, and overwhelming all at once.
2008's 'Sleeping On A Couch' EP was brought together by a mix of romanticism and reality, which most of all reflects everything from Guy's lyrical content to the way he lives, breathes and sweats music.