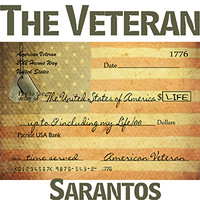 Poignant in its message Sarantos unfurls a beautiful powerful piece of pop on "The Veteran". From the carefully selected drums to the sweeping sound of the strings everything comes together. Lyrically the song is a celebration of the service given to war veterans across the world. Sarantos uses the song as a way of carefully depicting exactly what being a veteran can be. This means that Sarantos sugarcoats nothing letting stark reality filter into the overall sense of the story. By taking this approach Sarantos pays tribute to those who have given so much to bring peace to so many others.
"The Veteran"
https://www.youtube.com/watch?v=q7qA9rL1m48
The song begins off with martial drums, precision perfect. A lonely western guitar serves as the embodiment of the sense of duty that this position can bring. Lyrics state how these years are given freely and willingly in order for a greater sense of purpose, not to any one individual but to an entity greater than any person. Tempos are kept slow in order to further emphasize the introspective sensibility that permeates the song. Respect is given to those brave individuals who risked and oftentimes gave their lives in order to serve others in life. By doing this they are able to improve the world, to ensure that it can be just a little bit better. For the finale the song reaches a fevered pitch as the song reaches a satisfying crescendo.
Beautiful in tone and elegantly crafted Sarantos uses his impressive storytelling abilities on "The Veteran" to show what it means to be a veteran.
Posted by Beach Sloth