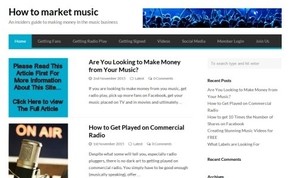 If you are looking to make money from you music, get radio play, pick up more fans on Facebook, get your music placed on TV and in movies and ultimately have a real shot at being signed, then this is THE site for you.
We don't offer up "in theory" advice, but instead real world examples of what we have carried out through years of industry involvement.
Other sites will tell you, for instance, how to create squeeze / entry pages on to your website, but how does that help you if no one knows about you and your music in the first place?
That's where our knowledge is frankly invaluable. Over the coming weeks and months we will address major topics like…
Getting Fans
Getting Radio Play
Getting Signed
Videos
Social Media
and much more
All the help we will give you are things you can do yourself too with no special skills required…..and finally approximately every 2 weeks we will publish a new article and the content will be driven by questions asked by our members!
Membership gets you access to all the current AND forthcoming articles as well.
The How To Market Music Team – music@how-to-market-music.com