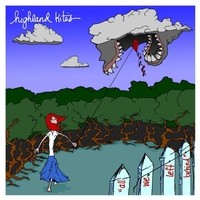 About the Artist: Highland Kites is a project started by SoCal native Marissa Lamar. After struggling with and beating a severe illness in 2013, she decided to pursue her dream of making music. In less than two years her and her band released an EP entitled SO Vicious, and a full-length album which they produced with Raymond Richards (Local Natives, Avid Dancer, honeyhoney) at his Los Angeles studio. They consider their style a blend of folk and rock and Marissa's long -time love for writing poetry drives their lyrically based sound. After releasing their last album ("All we left behind") and returning from a tour to the Pacific NW the band went back to the studio and recorded another full-length album.
I have to say I was extremely impressed with the initial 3 tracks "Small Frame", "Now I'm Home" and "Black and White". They made quite the first impression with me. Each one possessed my full unadulterated attention. To be honest: I expected cheesy Singer Songwriter Pop cut from the same cloth as some of the more cheesy female based rock nowadays. Not that there's anything wrong with that material, I just want to hear something new and different. What I discovered was actually quite the opposite. The whole CD is wonderful and is full of what I would call melodic acoustic energy with Alternative Folk/Rock textures that appeals to so many different senses on so many different levels. It reminds me a bit of of Jesse J, Florence and the Machine, Lykke Li, Lana Del Rey, and Ellie Goulding. I can also hear the slight Psychedelic-Alternative-Punk influence in there as well. What I really like about Highland Kites is there is no attempt to deliver what I call over the top pop. "house or cards" music with a pretty face via top flight sampling, cookie cutter songwriting via a mix that sounds more like a commercial than a piece of music. None of that here. The vocal work from Marissa Lamar is intoxicating, however I do wish she took more vocal risks here and there with more finale power to show us what those pipes can really do during those moments. This is really my only criticism. The overall production work (Produced by Raymond Richards at Red Rockets Glare Studios) leaves a lasting impression. The vibe you get from the rest of the band led by drummer Neil Briggs and company is impressive. Highland Kites will also appeals to many listeners – both advanced and novice, modern and maybe some not so modern. Like a three layered The Kites are one LA based band that has a lot to offer. They are quite marketable. Whether it's musically, lyrically, inspirationally, emotionally, and spiritually – if you feel like music is taking us in the wrong direction than rest assured The Highland Kites are taking us back in the right direction with their latest 10 song CD.
Mt Top Picks: Black and White, Empty Pages, I Don't Blame You
Final Word: Highland Kites will affirm your faith in good music again. They represent all that is magical, real and missing in today's music. This 'All We Left Behind" CD delivers a highly diverse 10 track catalog via top flight production/musicianship, amazing songwriting and music that covers all the bases: Rock, Pop and Psychedelic-Alternative Rock at its finest.
URL: https://highlandkites.bandcamp.com/
Overall Rating: 4.5/5
Michael Barney