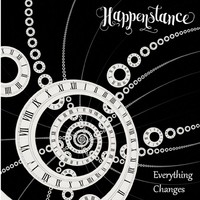 Canadian based band, Happenstance releases a new CD, Everything Changes. For all you Happenstance fans, this is a new adventure that proves change is a good thing. Brian Gallagher is a one man band teaming up with powerhouse vocalist Tamara Clark. Together they satisfy all you pop music lovers with hooky tunes and a positive message, that is what makes Happenstance loved and admired by their fans.
This CD has a fresh calmness that demonstrates that less is more. It has a clear and concise production that wraps around the singer's voice like a warm blanket, painting lovely pictures of compassion for the love of the game. This is a musicians CD, there are so many aspects of it that only other musicians may notice or appreciate like the raw emotion and vivid sweat put into the smallest detail of each song. It is layered with meticulous melodic substance and subtleties that have a commercial appeal, but also speaks to one's more creative side.
Audio:
https://happenstancecanada.bandcamp.com/album/everything-changes
Tamara Clark plummets the listener into a dream like state as she executes the lyrics with an innocence and sincerity that melts the coldest of hearts. It starts with the title track, Everything Changes with a soothing and hypnotizing compulsion to enter the mind of Happenstance. My personal favorite is the song, Sleepyhead, which is a perfect conclusion to this musical journey; every song in between is a pretty conversation between words and music.
Happenstance has done it yet again going in a new direction and ending with a beautiful composition. This band has quite a musical collection and their latest release, Everything Changes, left me mesmerized and in awe of what makes music art. This is the vision and talent of one man's musical language brought to life with poetic grace. http://www.cdbaby.com/cd/happenstance14
Happenstance has a lot to be proud of with this CD, do not miss out and get your copy today.
I rate this 5 out 5
https://www.facebook.com/CanadianHappenstance/
Rebecca Hosking – hoskingrebecca@gmail.com – www.rebeccahosking.com