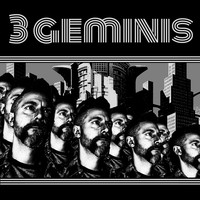 You gotta hand it to 3 Geminis…there's only a little bit of information out there in comparison to how far these songs have already traveled. From what I understand, the band is a one-man army of sorts, all stemming from the musical-mind of one Fred Carrico. If I am truly getting all this correct, then this guy is truly making a TON of noise in rock already, single-handedly more or less with a huge-mix on this electro-infused alternative-rock that comes out gunning from the moment the EP starts.
Seems to me, as the self-titled EP begins with the guitar-based rock-track "On The Ground Again," that two-things stuck out to me more than anything else:
Fred can write a hell of a song, and switch from gear to gear flawlessly rising or falling with the energy of the music…fantastic performance in "On The Ground Again."
How smart he's been to mask (as much as possible) the fact that he could easily be a dead-ringer for Nickelback's Chad Kroeger. Let's all take a moment now to bow our heads & pray to whichever God you deem appropriate for Fred to remain Fred, always…and to continue to use his powers for good and not Nickelback-evil. Amen.
Like I said though…he's got several-gears…and maybe there are truly three-sides to Fred that make up the personality and inspiration that drives the music of 3 Geminis. Take a track like "Lost" for instance…dude has moments creeping out of that chorus that echo Maynard James Keenan, and then there's of course his pure, rocking, uninfluenced voice as well. So…yeah…there's lots going on when it comes to Fred's voice and how he chooses to approach any given song on the EP, but it seems as if he really 'gets' the material, performs it convincingly & confidently each time and puts in the right tone & energy into any given atmosphere upon the 3 Geminis EP. No taking away from the instincts of this song-writer…he's got the goods and delivers with authority in "On The Ground Again" and its rock-stomp, and equally powerful on the intense electro-rock song "Lost" to follow. "Lost" actually reminded me a lot of the combination of alt-rock/electro that Econoline Crush put on their first record before they became way-too-radio-conscious…"Lost" is the kind of groove you don't need to be sold, this intense beat and gripping performance easily sell themselves to your ears…no middle-man or marketing necessary when the music rips this hard & real.
Stream the single "Break Through The Gate":
https://soundcloud.com/threegeminis/break-through-the-gate
Stream the record:
https://soundcloud.com/geminis3/sets/3-geminis
Putting out another side of his vocals into the limelight on "Thin Thread," Fred starts this one smoothly before letting it rip for the chorus. Excellent guitar-riff & beat guide this track through a wicked verse that's not to be forgotten…so much that in my opinion, it completely outshined the chorus. As many good parts as there are to this song, there are parts that also feel awkwardly placed…the bridge for example; and in general, the chorus seems to not quite raise itself up to the level previously set by the chorus on "Thin Thread." Vocally, Fred's kicking ass…there's no issues there aside from this is probably the kind of song he could sing in his sleep by now…"Thin Thread" isn't his most innovative, but it still works well enough.
But WHAT am I supposed to say? You all know I'm gonna be honest about how I feel about the music anyhow…and you'd call me on it surely if I tried to bullshit you. So believe me when I say that the track to follow, "Got My Girl" is freakin' genius! Everything about this track is a huge WIN from the vocals, to the subtle nature of its beginning and smooth ride through the opening, to the crashing expansion into the captivating chorus and sparkling melody. A haunting opening similar to what you'd expect from Stone Sour or A Perfect Circle, "Got My Girl" really starts to grind its gears on its way into the first minute and Fred sharpens his teeth on this microphone with beastly lyrics and a threat-level-red level of smoldering aggression in his voice. Big, rhythmic & distorted guitar chords flood the mix and multiple-layers of Fred bring out the best in his vocals through the harmonies and resulting combination. By its end, "Got My Girl" is completely enveloping in sound…and considering how it started, it's the audio-equivalent of climbing Everest in a day from basecamp.
It was interesting to learn that the final track of the EP was co-written. Hopefully this is for the sake of the pure-love of collaboration…if it's a hired-gun it's unnecessary. An even stranger fact…"Break Through The Gate" is the lead-single…which I truly think is an odd-choice in comparison to the rest, save for maybe "Thin Thread." I do like a TON of the effects that make up the music and backbone of "Break Through The Gate" but I didn't feel like it quite lived up to the expectations I had for it after learning all this beforehand…had I not known that…hmmm…I still feel like I'd feel the same way I guess. It's a good song…but I think that Fred has written some GREAT songs on his own so far earlier on in the EP that overshadow this final cut 3 Geminis. Part of me also thinks perhaps song-placement might play a factor here too – let's face it, "Got My Girl" is a fuckin great tune and would have made for a wicked ending as well, and even the idea of leading the EP with "Break Through The Gate" seems to make a little more sense to me overall…
…so I've cheated. Definitely dig the music enough to listen several times through…there's no doubt of Fred's talent in the music of 3 Geminis…but when it comes to our own playlists and how we listen to music…well…that's up to us after it's recorded isn't it? So yeah…I've cheated cause the line-up still works perfectly if you keep the album on repeat…I start my 3 Geminis EP on track number five, "Break Through The Gate," and by the time it comes around again…yeah…I'm smiling…that's the layout that works for me – but no matter what order you put them in, they're well put-together, played & performed no matter which way you listen.
Find out more about 3 Geminis (well…kind of at least?) at the official page: http://www.3geminis.com/
Find them on Facebook:
https://www.facebook.com/3-Geminis-1628935064047580/timeline/
JER@SBS – http://sleepingbagstudios.ca/