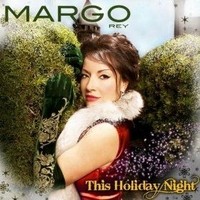 Mexican born Margo Rey has defied expectations from the outset and stands among the first rank of song stylists working today. Using a term like "stylist" carries loaded implications for some, but a quick perusal of Rey's musical CV reveals a diverse education and a wide breadth of musical knowledge. She isn't merely some attractive pop songstress; instead, Rey writes and performs music informed by her initial classical music training as a teen, days fronting the all-female rock band Debutante, a three piece power pop trio named The Ritual, and a deep knowledge of jazz. She also logged time as band leader for jazz fusion outfit Miss Margo and the Lost Souls. Her success in the musical world has opened doors into musical theater; after renowned actor Edward James Olmos helped land her the principal role in the Broadway bound musical Selena Forever. This key moment of fortune opened doors to further roles and established her as among the musical theater's leading lights. These varying experiences have shaped Rey into the impressively well-rounded performer she is today. Her latest single, the seasonally themed "This Holiday Night", is entertaining evidence of talent.
Rey's voice certainly commands the lion's share of listeners' attentions. She seems equally adroit with melody and infusing her lines with light grit that helps strongly invoke specific details. It's her mastery with melody, however, that stands above all else. She threads her vocal around the song's dreamy and lilting rise. As always, Rey has some outstanding lyrics to work with that strike a perfect balance between the personal and universal. Another area where an even balance helps mold a stronger presentation is the letter-perfect counterpoint between Rey's bell-clear phrasing and her musical backing.
The musical accompaniment is tastefully spare. There are no ostentatious virtuoso trips in Margo Rey's music and her collaborators are clearly professionals who long ago internalized jazz legend Miles Davis' advice that it's not the notes you play, but don't play. The song focuses instrumentally on a lightly applied string arrangement and lyrical piano playing that create wide vistas in the composition so it might breathe better and Rey's painterly approach may color in the canvas as she chooses. One of the defining qualities of Rey's singing skills is her apparently effortless affinity for singing with the band and not over them. It's an approach that creates all that much more intimacy between the traditional instruments and the potential musicality of her voice.
This single from the re-release of Margo Rey's 2014 Christmas EP of the same name hits its mark again as an instant holiday classic. Her high caliber voice, stirring songwriting talents, and a generosity of spirit fuse every second of the song with the spirit of a greater calling than mere entertainment. However, make no mistake, Rey delivers a spellbinding and gently developed vision of the season thankfully shaped further by the consciousness of a true artist. Rey's trajectory through the topsy turvy world of modern music hasn't reached its zenith and we're lucky to be along for the ride.
URL: http://margorey.com/
Purchase Link: https://itunes.apple.com/us/artist/margo-rey/id387239615
Jason Hillenburg