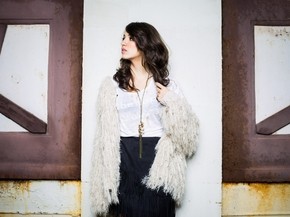 It's impossible to pinpoint the exact moment when adolescence turns into adulthood. Maybe it's a convergence of emotions and experiences, a meeting place for infatuation, pain, intrepidity and the loss of innocence. Whatever it is, it's this ineffable combination of nostalgia and epiphany that 17-year-old songwriter Victoria Canal has captured on her debut EP, Into the Pull. Over five tracks of the purist soulful pop she explores what it is like to be sucked inside the whirring chaos of emotion and experience that is life.
Rather than run from this chaos, Canal has grabbed hold of the magical maelstrom. Even her writing style embraces this uncertainty. Each song is born from experimenting with an unfamiliar sound or instrument. Rather than sticking with the piano that she has grown up playing, she will pick up a guitar, bass, ukulele or even a loop station and through experimentation and discovery a flash of inspiration will strike.
Now based in Atlanta, GA, Canal has also lived in Munich, Shanghai, Tokyo, Barcelona and Dubai. The influence of travelling has shaped her music as well as her personality, allowing her to see the world's cultural melting pot in all its rich glory. She was also born without her right forearm due to amniotic band syndrome and this has allowed her to give a voice to people who might not traditionally become performers and has added an additional layer of empathy to her emotional spectrum.