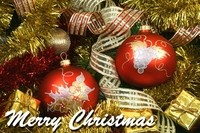 Here's the thing…I'm just going to toss this warning out there to the entire independent community towards the end of October, which seems entirely too early for me to be doing so, yet the situation has already reared its carolling-head towards me…so I shall continue; make that Christmas music you're planning on sending AMAZING…lest ye more than likely be torn apart by my natural inclination to rebel against holiday music. Also let it be known unto you all…that the further towards January that you feel the need to put your Christmas songs out there…the more I die a little inside each and every time as you begin to force the holiday season forward with the power of enslaved-reindeer pulling a sleigh.
Audio: https://od.lk/s/Nl82NjQ2MjkwN18/christmascards.mp3
Or better put…you'll likely find me at least ten-twenty percent more Christmassy when it's actually December. Until that point, I just don't feel like it's a holiday that needs any introduction or early marketing…pretty sure we all know it's coming…and it OWNS December, let's face it. Maybe about 5-6 years to a decade ago, it stuck a hard claim into November…which was apparently on Saint Nick's personal Christmas list – so it took that too. 1/6 of your year/life is dedicated entirely to Christmastime and the holiday season at that rate – and now…now you're coming for October too?
It's no wonder we hang balls off our Christmas trees – obviously Saint Nick's got plenty to spare!
Anyhow…let's see if I can take my hand out of the Halloween candy-bowl that's still FULL (cause THAT holiday hasn't even finished yet) long enough to type out a review on my thoughts on the earliest gift we've gotten in 2015 for xmas – Rev. Peter Unger's "Christmas Cards." Some of you will remember him from spinning his music on one of the most recent episodes of the SBS Podcast with Ryan & Jer…which for the record will more than likely not spin a single Christmas tune even in December…so we played another song of his called "Memories Of God."
I can't take anything away from what the Reverend has done with "Christmas Cards" as much as I might like to here in October. It truly is a beautiful composition with gorgeous acoustic guitar and piano setting the melody in the music for a sweet performance from Peter that is bound to be played throughout the mornings of Dec. 25th in houses all over the world. Of course…being released NOW also means you can get your yuletide-joy-on much earlier than that…thanks again for that Reverend!
Truly though, he's done a wonderful job with both the music and lyrics and really does capture the magic of Christmas…again, even as I'm unwrapping this mini-Mars bar and mini-Twix and stuffing my face with Halloween candy before the kids take it from me, I can't deny it's a powerful Christmastime tune, played & performed perfectly by the Rev. Peter Unger. Flawless and sweet – everything about this song sounds like a warm fireplace glow, family around the tree and good times with great people; "Christmas Cards" is beautifully inoffensive and quite a charming melody.
And although it might be extremely early into the year for this Grinch to be listening to Christmas music – it's also the indication of a musician & a man that chooses to think of others before himself in creating this early gift…and I think that's both respectable & commendable. Rev. Peter Unger has clearly got the best of intentions and delivers them to you delicately in "Christmas Cards" with an intimate & tender holiday song that perfectly details the true-magic of Christmas in the warm-glow of its inviting melody.
http://spiritualjourneysinprayerandsong.com
JER@SBS – http://sleepingbagstudios.ca/