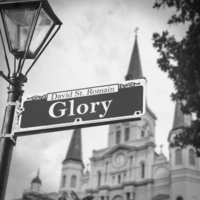 The first song is entitled "If You Want It." While I'd prefer it without the retro affects (organ and horn section), you can't really argue with smoking hot blues like this. The vocals bring some great blues and soul on "Even the Bad Times Are Good." I'm not all that sold on the old school soul musical arrangement, though.
I like the guitar solo on "It's Gone." It's more of a straight rocker. It's fun stuff for sure. In some ways it makes me think of a more rocking version of Huey Lewis and the News. Another with a great guitar solo, "Subtleties of Rain" is more like a rock ballad. There are almost hints of 1980s metal, but yet it's delivered with more of a soul sound.
I can make out more of that 80s metal thing on the title track. The guitar solo really brings that home. Yet, this also has some Huey Lewis to it. Now, St. Romain kind of loses me on "Hold On." It is a mellow song that feels like Motown.
The bluesy jazz vibe works pretty well on "A Lot of Room." It's just not really my kind of thing. A mellow soulful ballad, "Every Little Thing" is definitely out of my bailiwick. I can see why "Trouble" would work for some people. It's probably great "make out" music. It's bluesy, but not really my thing at all.
Just too lackluster and predictable for me, I don't care for "She Can't Remember" at all. "Glad That I'm the One" is more of a rocking bluesy tune. It's much more the kind of thing I like. It works really well. The guitar solo is great, too. The closer is a strong blues rocker entitled "I'm Not Just Anybody's Fool." At times itsounds like The Saturday Night Live band to me. I like the tune, and think it works well as a final song.
Overall, this has some great music at the start and the end. In between, it lands in territory that's not really to my tastes. It's all well performed, though.
4/5 Stars
Purchase Link: http://www.cdbaby.com/cd/davidstromain1
Review by Steve Rafferty