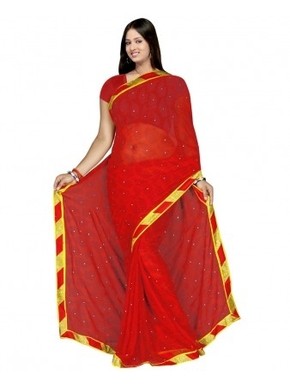 The saree is a traditional yet stylish garment that suits both the young and the old. Over the years, the saree has become popular even to non Indians. Basically, of all Indian outfits, the saree has taken the world by storm. Lucky for you, there are thousands of designs to choose from.
Sarees are here to stay, so why not embrace them. Let's be real, if you are reading this, you are with no doubt a saree lover. After all, who wouldn't be? There are just exceptionally incomparable and as the days go by, the saree is slowly making its way to the fashion limelight.
Online shopping might be the quickest and easiest way to buy stuff, but it comes with challenges of its own. Despite the fact that online shopping saves you reasonable time and money, the process can be taxing. For instance, you will not be able to tell how the saree fabric feels on your skin until you buy it.
In a quest to find that particular designer saree that flaunts your body curves, you will have to do thorough search on all possible fashion sites. Not to worry though, this article is intended to give you a heads up on the dos and dont's for Designer Sarees online shopping.
Dos
•Dress the part – Is your wedding (or party) around the corner? Are you thinking of an Indian theme? An Indian themed party will be the party of the year. The glamour and style that sarees hold will not pass unrecognized.
•Be unique – you have a lot of aspects to consider: colour, design, prints or fabric. With these four in mind, you will be able to narrow down to what pleases your heart.
•Plan early – choose your saree days (maybe months) before the event day. Planning early means having the time to compare and contrast before settling for something.
•Compare prices – with hundreds of saree designers out there, there is definitely a pricing competition. Look for different price tags on different garments and try to come up with a reasonable choice. Make a choice that doesn't hurt your pocket.
•Confirm your order – online shopping is a bit confusing especially if it's your first time. Make sure you have the right product before making that final click especially if you are a 'last minute' person.
Dont's
•Don't make it too tight. The saree is designed to drape down your body. If it's too tight, you lose the exquisiteness. The looser the better.
•Do not stray from your budget. Are you spoiled for choice? Remember you have a set budget, so abide by it. This way you will have no money regrets.
•Don't go for cheap. Even with a set budget, you have to remember that cheap is expensive. If it's too cheap to be true, then reconsider. There are lots of less expensive yet quality garments in stores today. Take your time and choose right.