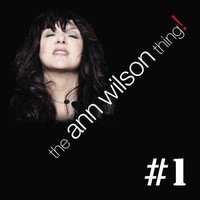 The word legend means nothing here. Bantering that word around and slapping it on artists often means well, but frequently looks more like memorializing or pinning butterflies under glass. Ann Wilson, longtime lead singer and songwriter in the rock band Heart, has lent her considerable talents to four plus decades of memorable pop and rock tracks, but it's clear that such a substantial legacy is no burden to her. Her first solo work, an EP entitled The Ann Wilson Thing, is a memorable reminder that, while she might rightly be referred to as a legend, Wilson remains a vital and relevant artist pushing herself into new performing territory.
Her minimalist cover of the Ray Charles classic "Danger Zone" surrounds her remarkably powerful voice with a woozy, 3am bluesy weariness. Percolating keyboards add color and punctuate the singing. It isn't often that listeners will hear music making effective use of post-production touches and not overdoing it, but this performance is clearly the result of much thought and consideration. "Fool No More" moves like a bluesy dirge with Wilson weaving another powerful vocal around the song's clanging open guitar chords. Wilson's ageless vocals ache with such emotion that it isn't difficult to imagine her deserving the same multi-generational respect accorded to other talents like Joplin, Slick, and Franklin. The musicians summon an impressive wall of sound for the track that does an able job of approximating the singer's desperation.
The Ann Wilson Thing rein-visions Buffalo Springfield's anthem "For What It's Worth" as a postmodern, vaguely apocalyptic tour de force. Aggressive percussion opens the song before harsh guitars and Wilson's prophet of doom vocal takes up the lyric like a wide-eyed street corner preacher. This is the sort imaginative leap that many listeners, including myself, associate with such a formidable veteran talent. It isn't enough to regurgitate the original's muted brilliance. Instead, Wilson and her collaborators have brought this song into 2015 with vision and creativity. The EP's final track, a live performance of Aretha Franklin's "Ain't No Way", lays a final take of bluesy passion on listeners. The muscular dynamics of building from an intimate opening into crashing crescendos of heavy drums and distorted guitars decisively pull the track away from its R&B/soul roots, but the rock vibe works well. Wilson's vocal surges with such power that she places a legitimate claim on reinterpreting an otherwise iconic track.
It's long overdue. After so many years working with her sister Nancy in some form or fashion, the release of Ann Wilson's first solo work is an event. She has never held her rightful place as a singer, but Wilson often sounds like she's improved with age rather than declining. Her first solo effort, The Ann Wilson Thing, works well for such an abbreviated effort and heralds a full length will likely cement new paths forward for her. Her voice is in fine fettle and she has recorded the album's four tracks with musicians' lockstep in accompaniment.
4/5 Stars.
Purchase Link: http://www.amazon.com/The-Ann-Wilson-Thing-EP/dp/B0142XIRAK
URL: http://www.theannwilsonthing.com/
Jason Hillenburg