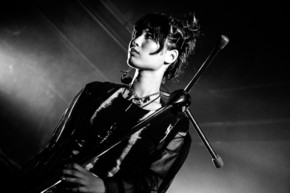 Tokyo Calling returns with news on indie band 33 Insanity Vertebra. A good night of live music doesn't have to mean sky-high ticket prices, arena setup, and major productions. A small venue can be home to some amazing artists.
Jazzy screamo punk seems like an unlikely combo but 33 Insanity's Vertebra not only makes it work–they excel in it.
Fronted by the charismatic Nozomi, 33 Insanity's Vertebra is backed by her explosive guitarists, Yoshihisa Goshima and E-tatsu. Bassist Seiya Furuta and drummer Kazuyuki Nakahara  also shine on the equally unrestrained rhythm. 33 Insanity's Vertebra is based in Nagoya, but croons and screams their way through live houses from the Kansai to the Kanto region.
The band's music is full of surprises, creating music filled with "ferocity and sentimentalism." Nozomi's seductively husky vocals hits unexpected highs while also shocking the audience with full throttle screams a split second later. 33 Insanity's Vertebra kicks the typical shrill Jpop image, favoring rougher jazzy beats and high-powered guitar rifts that lead audiences from their rapturous listening to dancing wildly with the band.
While music is definitely the most important factor of a great band, 33 Insanity's Vertebra does not lose in visual appeal. The jazzier vocals can make Nozomi seem restrained at first, she quickly shows otherwise as she screams and rocks the stage with careless abandon. The rest of the band is also never still, with Goshima, E-tatsu and Furuta constantly out and about, sometimes even jumping off stage to play in the audience.
33 Insanity's Vertebra is still a relatively young band with a growing fan base. The band started with Nozomi and guitarist Yoshihisa Goshima in March 2012. Goshima still produces much of the music, working with established mixers, such as Teruyuki Takatsu, known for his work with Kuroyume (黒夢) and SADS, to create 33 Insanity's Vertebra's unique sound.
The band's first live was at Nagoya's prestigious Club Quattro. They also performed overseas soon after their official formation, headlining in London's The Pipeline at an event organized by Japan Underground. Since then, 33 Insanity's Vertebrae has continues to tour extensively in Japan's major cities, including Nagoya and Tokyo.
33 Insanity's Vertebra has released 1 ten-track album, 1 single, and 2 EPs, all available exclusively on iTunes.
You can find more of 33 Insanity's Vertebra on their various channels.
Official Homepage: http://www.33ivuk.com/
Youtube: https://www.youtube.com/channel/UCd-Z0dX4HWRQmCU3be4x1KQ
Facebook: https://www.facebook.com/33InsanitysVertebra
About: Tokyo Calling welcomes reader suggestions for future articles, reviews, and interviews. Please comment below with your request. Also, we regularly scan our comments for readers our "Readers Favorites" compilation articles ~ so please feel free to simply comment with the name of your favorite Japanese artist and a couple of sentences telling us why they are your favorite. Your comment may be in an upcoming comment collection article.
Intro/Outro by Apryl Peredo
Article by Tabia Chui