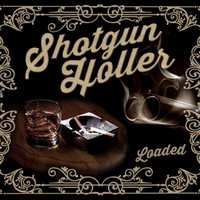 Hailing from Indiana, Ohio, and Kentucky, the five members of Shotgun Holler are well versed in bluegrass and country music. Even a cursory listen to their debut album Loaded drives that point home. Their music goes a step beyond the traditional poses associated with the form and actively seeks to open up its relevance for modern listeners. Strong production values are the album's bedrock, but the sturdy arrangements and often subtle songwriting is the defining quality that will attract listeners to this album and gives the band a remarkably clear blueprint for their future. Few bands in this musical genre have debuted with such a complete, all-encompassing style. It isn't merely trying to hit some expected marks and play on the nostalgia of the music's devotees. Instead, this is a collection that treats bluegrass as a living, evolving musical form that they are determined to rescue from its doldrums.
The album opens with "Out in the Parkin' Lot", a surprisingly wistful variation on the coming of age song that does a superb job of introducing us to Shotgun Holler instrumentally. The band specializes in a light-footed weave of banjo, mandolin, upright bass, guitar, and fiddle that solidly invokes tradition with its sterling production. "I Hope Heaven Has a Holler" might play into some listeners clichés about this music, but less than a minute's worth of the song will convince all but the most jaded that this isn't the case. Shotgun Holler has appropriated the language of bluegrass and country music with brilliant fluency and the restless, yearning spirit driving the music, particularly the fiddle, gives the track a haunting quality.
"Methamphetamine" likely ranks as the album's best song. It's a focused and deeply artistic work with deceptive lyrical and musical sophistication. Many of Shotgun Holler's songs demonstrate a talent for narrative and characterization. Few tracks embody that skill better than this. The same sophistication shines through on "Relatively Easy" and is furthered sweetened by the addition of light harmonies. Shotgun Holler deserves considerable credit for their ability to imbue their material with individual flavor while pursuing a sonic blueprint frequently criticized as one-dimensional. Guitar, mandolin, fiddle, and banjo glimmer through the album in a delicate four-sided dance that gives the band's songs great beauty.
"This Side of the Grass" has a little of the genre's dark humor, but it never dominates the song. The signature elements of this track are the appropriately mournful vocal and the lonesome counterpoint struck by fiddle player Alex Benefiel. "One Lone Tree" moves away from the country leanings of songs like "This Side of the Grass" and enthusiastically embraces traditional bluegrass. There's little here removed from the early laments of The Stanley Brothers or other classic acts, but Shotgun Holler have reclaimed these traditions for themselves by infusing them with a strong sense of the personal. "I Should Have Started Yesterday" is a lightly rueful finale, but it's delivered with perky resignation that tempers any negativity. The lyrical slant makes it an ideal closer that gives listeners yet another glimpse of the men behind Shotgun Holler while reaffirming a genuine commitment to tradition informing their musical DNA.
Shotgun Holler's debut will likely be remembered as a seminal moment in the genre. They've realized their avowed intent to pursue riskier, more exciting ends with the form and the eleven songs they have released attest to their mastery. There's isn't any filler here at all – instead, Loaded serves up a first class musical experience sure to entertain and even move bluegrass and country music fans alike.
9 out of 10 stars
Primary URL: http://shotgunholler.com/
Purchase Link: https://itunes.apple.com/us/album/loaded/id994996853
Lydia Hillenburg