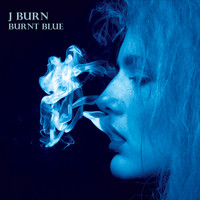 San Francisco's J Burn has one of those off-kilter combinations of Americana/Folk/Indie/Country/Rock that's bound to throw you a little even despite their smooth-sound. As the Burnt Blue EP began, it was almost set for an all-ages type-feel…something about "Freight Train" made me feel as if I was about to pull into Shining Time Station to learn some stuff for a moment or two there…
It's pleasant…let's put it that way. "Freight Train" is your introduction to Jay Burn and his crew of ace musicians that assist in bringing his music to life…the names are extensive and the talent is audible; fiddle-work and bass standout in this first tune as do the vocals and harmonies. It all feels incredibly G-rated, but at the same time, it's comforting, inoffensive and inviting as an opening tune and first experience into the world of J Burn.
For me though, I was a much bigger fan of the track to follow – "Memory Lane." I dig the way the vocals are layered and it kind of creates this simulated delay or slight-echo that really makes them sound golden and dripping with sweetness in the melody. But somewhat oddball right? You'll hear what I mean…when I said off-kilter at the beginning, it's just from the oddness of some of the combinations and how well they actually come together. The melody of "Memory Lane" is brilliant…nothing's overcomplicated here even though there's a ton going on to create the music…everything works perfectly here. Like a refined version of the indie/folk-band Golden Smog…J Burn has got himself a smooth track here – "Memory Lane" might be subtle, but it's a stunner.
I think that "Old Time Heroes" kind of represents J Burn in a really great way. This tune sounds authentic…great piano leads the way through this song as the vocals sound both a little rawer and a little realer somehow on this track. "Old Time Heroes" is a real musical salute to the style of J Burn and the dedication to the craft these players have…from guitars to bass to drums, they all have their moments – in real time even at points! Kind of has like, a Tom Petty-meets-Sparklehorse kind of feel to it…I dunno, have a listen…maybe you'll get what I mean. It's a great song ABOUT a song…or about music overall…heroes…love…memories…and raising a glass to'em all cause life is a fantastic place ain't it folks? Another solid tune, another solid melody…I love how the music never feels forced – it's always very natural in sound with a real loose feeling but always incredibly tight in the performance and production.
J Burn finds more sweetened chord-progressions in the final tune on Burnt Blue, called "Our Song Shared." Almost taking on an atmosphere like a slowed-down version of "The Weight" by The Band – this last song from Jay Burn and his crew rambles-on through the a thought-provoking set of lyrics that truly make themselves known…it's a little more personal but a much-shared universal perspective, feeling and story to it all that I think a lot of people will easily accept and relate to.
So…anyhow…yeah…no sign of Mr. Conductor as far as I could tell after listening to the Burnt Blue EP in-full; the gentle-nature of the music and songs is simply something that anyone could pop on & listen to, no matter what age. As far as things go for J Burn – it opens a lot of doors for a band when a sound is as inviting & comforting as theirs is…and I'd be willing to bet there's a lot of places, venues & opportunities opening up for this talented band…good stuff & sweet melodies on Burnt Blue, it's a solid indie-folk EP.
Find out more from the J Burn official page at: http://jburnmusic.com/
Jer@SBS – http://sleepingbagstudios.ca/