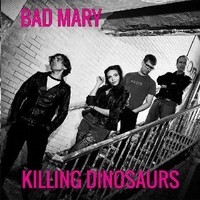 Bad Mary are a four-piece punk rock band hailing from Long Island, New York. Starting out as a covers band, they changed their name from Madame X in 2012 and Bad Mary was born. Their music is particularly inspired by the NYC punk movement of the late 1970's and I would describe their music as a cross between bands like Blondie and The Ramones, combined with the more modern punk rock sound of bands like Paramore and Green Day.
Their debut album Better Days was a big success, with two tracks being used to soundtrack the NBA Finals. This EP, Killing Dinosaurs, consists of six tracks and is a great representation of their sound. They are led by the distinctive, throaty vocals of Amanda Mac, who delivers some blistering performances across the EP.
Audio: https://badmary.bandcamp.com/album/killing-dinosaurs-ep
Opening track Soapbox kicks things off with a bang, David Henderson's razor edged guitars sounding raw yet still slick, backed by Bill Mac's thunderous drumming. Amanda has no problems imposing herself over this wall of sound, her vocals full of Debbie Harry-esque NYC attitude. It builds to a super catchy chorus and makes perfect sense as the lead track.
Want What I Want and Hanging Around are both Ramones-rapid punk rock bursting with killer guitar riffs and huge sky scraping choruses. The former is about Amanda's frustration of trying to meet other people's expectations of her and the modern problem of online abuse that every band receives to some extent: "Wear some make up, too much make up, make your mind up, tell me more, it's too short, it's too long, you look good, you're a whore….".
Next To You is a cracking punk rock version of a Police song that I actually prefer to the original, while Sucks To Be You is another sassy slice of guttural rock n' roll that takes lyrical swipes at an ex-lover. The closing One More Song is an honest admission about trying to find creative inspiration, and a fine way to finish.
Overall, this is a highly entertaining and enjoyable EP from a band who are clearly already going places and in Amanda Mac have a charismatic front woman who could be a Debbie Harry for this generation. They have the songs to back up the attitude, and this EP will only enhance their reputation and fanbase further.
Alex Faulkner – https://thefaulknerreview.wordpress.com/2015/10/21/ep-review-killing-dinosaurs-by-bad-mary/
Verdict: 8.4 out of 10