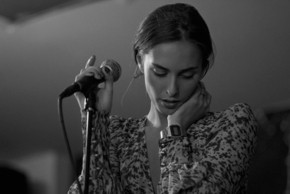 Hello all on a hungover Friday morning, not sure how last night got so out of hand but the music just gets in me and watch out! So let's get to the news as there is much going on. Music marketing and brand experience agency Momentum Worldwide, with leading sports and entertainment presenter AEG, has conducted the premiere research study aimed specifically at identifying the connection between live and digital music behaviors. Among the findings is that millennials, defined as people ages 18-34, want to see brands in the music space and enjoy seeing them there. That is good news! In other news, Montreal-based TuneStars an alum of CFC Media Lab's IDEABOOST accelerator program, unveiled a new mobile app designed for the next generation of music fans, industry and artists. A groundbreaking platform, TuneStars aggregates and organizes music-related content pulled from top online sources into one central location, making it the first network where fans, artists and the music industry can connect, discover and share like never before. So on this Columbus Day weekend Friday we have the talented, beautiful, soulful, graceful, NYC native, Sophie Auster. Sophie has got her contagious single "Bad Manners" and new album "Dogs and Men' out now so I had to catch up with her. Join us today and get lost as Sophie speaks on how she got into music, the new album, living in NYC, and so much more. TGIF to all!
Stoli: So where are we talking from today and how was your summer?
I'm sitting at my desk in my apartment writing to you in New York. My summer was good. I played some really fun shows and took a little family vacation to the beach in August.
Stoli: Offer us some insight into when you got into music and how much your family/friends have supported your passion?
I first started performing when I was eight years old in choir and jazz band. When I was sixteen I made my first record and started exploring songwriting. Without my friends and family I wouldn't be nearly as confident as I am now. Support is really important for anyone doing something as risky and up and down as music.
Stoli: When you first began putting out music what 2 artists did you say had the most influence on your sound & style?
When I first began putting out music I would say that Tom Waits and the Beatles were my greatest influences.
Stoli: What is your process for making music as in what kind of mood and setting are you most creative?
I need a very clean and quiet environment when I'm working. If I have a chaotic space I can't focus. I think for anything to flow freely you need to be really relaxed. My best work comes when I'm calm or very tired because my defenses are down. I usually begin with a melody on guitar and then things flow and I go from there. I am inside what I do at all times so I constantly have ideas running through me. Especially in the shower!
Stoli: Your debut album came out at the age of 18. How would you say that you have matured as a musician and woman since then?
I am much more at home in what I do. I always say that songwriting is like exercising. You have to stay active in order to build the muscle. If you run once a month you're going to be out of breath but if you do it everyday you find your stride and it gets easier and more fun. I feel constantly inspired because I write everyday. I wasn't allowed that time when I was younger because I was so busy being a student and touring and promoting my first record. I feel like I own what I am doing and who I am today much more than when I was 18. I was trying to find my voice. I've embraced my quirks and what makes me unique now, instead of trying to emulate other artists I respected. Our influences can be a burden in the beginning. I tried hard to be like certain artists that I loved, but I wasn't. I am me. I think shaking off the weight of our influences is necessary for finding your own way. I realized that I was a complicated mix of everything I grew up listening to and I didn't need to be like any of them. I had to embrace what set me apart.
Stoli: Your amazing new album, 'Dogs and Men' is out now. How long were your writing & recording this collection?
The whole process from beginning to end took about two years, which is too long in my opinion. But it began as a smaller project and became a full-length album after 6 songs were already recorded. Also, the shopping process of an album is long sometimes.
"Bad Manners"
https://www.youtube.com/watch?v=yXvCjBipBF8
Stoli: What 2 songs are the most personal to you and can you offer us some background on what inspired you?
The two most personal to me are "With You" and "Little Bird". "With You" was written during a time in my life when I was very much in love with someone. It's strange because even though I was in the midst of the affaire when I wrote it I think I knew that it wasn't going to last. The song is an eerie prediction of what actually happened. It's very sad. "Little Bird" was written a long time ago when I was at Sarah Lawrence. During a weekend back home in Brooklyn, my mother and I lay in my bed and read fairy tales out loud to each other. She used to read to me every night before bed till I was about thirteen, which is a little old to have your mother read to you, but I loved it. So we nostalgically crawled into bed and read a particular fairy tale that described a beautiful bird with a red throat. I was so inspired by that story that I went back to school and wrote "Little bird".
Stoli: I love the video for "Bad Manners." How did you match the video concept to the song and will you be doing more videos?
I definitely want to do more videos. I have an acting background so being able to flex that muscle is really fun for me. The song itself is a satire so I wanted to have a really ridiculous video to match. I wanted to poke fun at gender roles and make both the male characters and the female protagonist ridiculous. I think this was achieved! Who doesn't love a woman in a stick on mustache! HA!
Stoli: The media have embraced you in an impressive way both online and in print. What advice can you offer other young woman to display the same confidence and beauty that you do so elegantly?
Thank you. That is really nice to hear. My advice would be to never answer any questions you don't want to answer. Try to be honest, but you do not have to divulge your whole life story to the interviewer. Everyone appreciates a little mystery.
Stoli: Being that you live in the amazing NYC, what do you like to do when not making music?
When I'm not making music I really like taking long walks all over the city and stopping in galleries and record shops.
Stoli: What is coming up for Sophie Auster and where you @ online?
I have some really exciting projects coming up. I am going on a west coast tour with Coeur de Pirate this month and then touring the East coast with her in October and then in November I begin my European tour. I'm also starting a new album produced by Jesse Harris.
My instagram: @sophieauster
Twitter: @sophiehauster
Facebook: sophie auster music
http://www.sophieaustermusic.com
Photo By: Derrick Leung