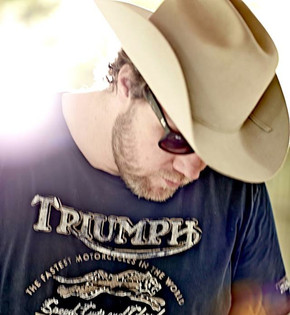 "I'm gonna quit, smoking and a-drinkin'. I'm gonna quit, cocaine and carousing. You are it. Hell, you know there ain't no doubtin'. Let's devise ourselves a timeline, leave this county line behind," sings The Warden on "County Line," one of the twelve tracks on his debut solo album, set for release on October 9, 2015 via Dallas, Texas indie label, Idol Records.
"'County Line' is about giving up the good things in life to achieve the great things. Fresh starts and what not," says The Warden. "It's like an AA meeting on Texas style steroids. My buddy, Party Cove calls it the 'Cocaine Revival Anthem,' so there's that. The instrumentation is an unparalleled Texas honky tonk attack. Leslie McDonel's backing vocals give it the power of love. She is the best."
Now, you're probably asking yourself, "who is The Warden?" He is East Dallas, Texas resident musician Ward Richmond, a fixture on the local scene who has toured internationally with projects such as Slick 57 and Boys Named Sue, among others, where he's held down the bass, songwriting, management duties, and sometimes vocals of these local music legends. This time, though, he's picking up the guitar and making all of the decisions by himself.
Here we offer you an exclusive premiere for "County Line."