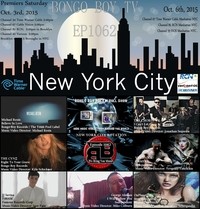 The Bongo Boy Rock 'N Roll TV Show presents "Indie Music Videos from Around the World." Episode 1062, "We Bring Your Music", features videos from Indie Music Artists that are on the cutting edge of greatness. These videos were featured in New York City TV, and will be available on GO INDIE ROKU Channel later this winter and today 24/7 online at http://www.vimeo.com/channels/bongoboytv and on Bongo Boy TV's web site http://www.bongoboytv.com.
Watch:
With a spritely melody and persistent beat, Michael Resin's "Believe In Love" is an absolute beast of a track. The gradual buildup is completely satisfying. Additionally his interesting combination of both house and dubstep works wonders as it adds an element of surprise into the mix.
A full-fledged 70s punk sound informs the bombastic "I Can't Let Go" by the Chords UK. Reminiscent of the Clash at their absolute best the song is a complete rush. Simple, honest, and direct, the Chords UK sing straight from the heart.
http://www.facebook.com/TheChordsUK
Veronika explores the dark underbelly of the surveillance state with "CameRA". By letting the song slowly morph into something more, into the exploration of people willingly sharing themselves with strangers, the piece itself takes a close look at modernity's lack of privacy. This message is delivered as seductively as possible with throbbing beat and an industrial sound emphasizing a sense of true power.
"Right To Your Grave" by the CYNZ has a romantic croon to it. The overall mellowed soft vibe of it recalls the best of early Meat Puppet albums. Nicely executed they hit every possible mark from the vocal delivery to the inviting guitar riffs.
http://www.reverbnation.com/thecynz
Downright woozy in aesthetic is the blurred lines of JJ Savina's "7:00AM". Execution is pitch perfect as the song feels like an exploration of grandeur. Everything is huge from the propulsive beat to the epic sweeps of sound. Without saying a word it effortlessly explores many different elements of EDM.
https://www.facebook.com/Julia.Savina.EDM
Sincere in tone is the touching work of "I Will Follow You". The song begins quietly before coming into full bloom. George Aleman's vocals serve as the heart of the track displaying great power.
http://www.reverbnation.com/georgealeman
OnPlanetZu's "Stop WhatCha Doin" is pure chaotic energy. Beats blast through like shrapnel yet maintain an odd sort of danceability. The footwork aspects of the track keep it in check. Vocals match this high energy and help to add additional layers into the kaleidoscopic sea of sound. With a sense of play the song brings the episode to a delightful conclusion.
The Bongo Boy Rock N' Roll TV Show is produced by Grammy members Gar Francis and Monique Grimme and is fully funded by sponsorship's from all the indie musicians and their affiliations in each episode, industry sponsors and Bongo Boy Records. Bongo Boy TV produces and distributes The Bongo Boy TV Rock N' Roll TV Show which puts the spotlight on indie videos worldwide on 40 TV channels.
BONGO BOY ROCK N' ROLL TV SHOW SERIES……MTV for the New Millennium!
Web Site: http://www.bongoboytv.com
Email: bongoboytv@aol.com
Posted by Beach Sloth