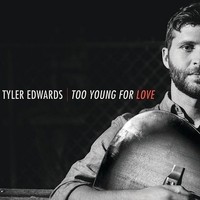 By looking backwards into the past, Tyler Edwards comes up with a fresh sound. Make no mistake, a lot of music on Too Young for Love sounds at least 40 to 50 years old. Overflowing with acoustic guitar, violin, good old fashioned singing, this EP does a whole lot with really just a few sounds/instruments. It's something like folk music crossed with country and r & b, but it really doesn't worry about genre overall. This is music that just is.
"Headed for the Coast" is a great lead-in and introduction to Tyler's dreamy, floating on a cloud sound. With a down to earth penchant for the blues with archaic violins, acoustic guitars and straightforward blues vocals, the EP bares some semblance to classic recording artists such as Michael Martin Murphey and Merle Haggard. That's not exactly the entire picture of what Edwards crafts and gives from the very depths of his heart, yet it isn't far off the mark either. The whole feeling is completely human with no studio tricks or silliness bogging down the traditional atmosphere. That atmosphere takes a dizzying turn on "Calling Me" which is a fired up affair of high-speed acoustic guitar, leaping vocal acrobatics, harmonic, banjo and a wild, untamed bluegrass sound happening throughout. It's almost an affectionate nod to the work of Bill Monroe, although it has its own thing going and is more modern in the recording department.
The broody, obtuse ballad "Down" veers the album down a more calm set of rapids; delegating much of its time to black holes of bluesy acoustic guitar, vocal lamentations and melody peering in through the darkness. Without question, this cut is much less commercial and leaner than the majority of the album's numbers. The sun comes out on "Common Ground" which is close to being a pop country number, although it never strays into the clichés and tactics used by Kenny Chesney and Toby Keith. No sir, the instrumentation is much more authentic country, and it's only the highly addictive chorus that yields the song any of its pop influence. "Sail On" hearkens back to the violin/acoustic hybrid of opener "Headed for the Coast" and uses nearly the exact same structure of sad lead guitar, soulful vocals and rustic strings to get its point across. It's a very good song even if it feels like a repeat. The title track ends the EP with Tyler's unique take on a pop country suite, although again only the chorus is outright infectious with obtuse acoustic guitar melodies and call/response vocals giving it a completely different feel than the genre's star players.
Too Young for Love is a smorgasbord of aural delight, and despite a few same-y moments, it excels with the great songwriting, passionate vocals and stripped-down instrumentation that never overplays its hand and keeps you listening to the end. The songwriting could use some fine-tuning on future efforts, but Tyler Edwards is off to a grand start and it's apparent that he has the ability to carve up some very effective, self-penned numbers.
URL: http://www.tyleredwardsmusic.com/
8 out of 10 stars.
Jay Snyder