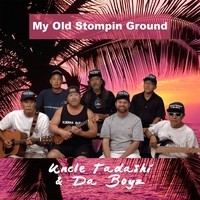 "My Old Stompin' Ground" has a rustic charm to it. Uncle Tadashi & Da Boyz opt for a full clear sound. Right from the beginning the song has an autumnal quality to it. By keeping it all acoustic Uncle Tadashi & Da Boyz are able to accomplish great things. The heart and soul is the calming sung lyrics whose message is that of a vibrant history, the kind of history that can inform an entire lifetime. A slow contemplative tempo gives it a thoughtful introspective quality. Every single element is perfectly placed as it creates an interesting mix. At times reminiscent of the honeyed voices of the Fleet Foxes, "My Old Stompin' Ground" is a joyful piece.
"My Old Stompin' Ground"
https://www.youtube.com/watch?v=gdvG_w-n2go
The song begins with crisp guitars. Harmonies are sun drenched and sweet. Percussive elements enter the fray while keeping the well-worn feeling of the song intact. Lyrics highlight the naturalistic tendencies of the music as it describes an entire world. Descriptions of a past long gone are front and center. Much of the narrative speaks of the memories associated with the grandeur of being away from it all. The chorus is absolutely perfect with a sense of reassurance growing larger and larger. For the finale the entire band sings together like those around a campfire. Gradually the instruments fade away until only the voices are left.
Celebrating the joy of togetherness, Uncle Tadashi & Da Boyz exalt the power of the memory with its ability to let past successes inform future hopes.
https://www.reverbnation.com/uncletadashidaboyz
https://www.facebook.com/uncletadashidaboyz
Posted by Beach Sloth