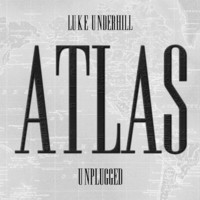 Luke Underhill's Atlas Unplugged is straight from the heart. From the careful arrangements to the resonant sound, everything simply works. Vocals are the highlight of the album. Raw and earnest the lyrics are clever narratives, dedications to cherished ones, love songs done right. Together the pieces work to create an album of great warmth. By stripping these songs down to their absolute essentials they are able to have a far greater impact.
Audio: https://soundcloud.com/luke-underhill/sets/atlas-unplugged
With elegant piano work is the hopeful work of "Stars" opening up the album on a high note. Impassioned guitar strums punctuate the sweetness of "The Working Man's Daughter". Luke Underhill's careful word choice accentuates the struggle between himself and a father. Dreamier in tone is the gentle atmospheres of "No More Like Me". Quite lovely in execution the piece drifts up airy in tone with a sense of sadness that permeates the piece. Down to an absolute whisper is "Atlas" by far the highlight of the album. Carefully setting the mood the song moves with precision. Introspective the song makes good use out of the piano's decaying sounds, letting the space of the help to fully emphasize the mood. Taking a more upbeat tone is the jaunty work of "Something". Bringing the album to a satisfying conclusion is the expansive work of "To Love And Let Go".
Atlas Unplugged does love songs just right. Keeping things simple Luke Underhill is able to show exactly how love songs should sound.
http://lukeunderhill.com/
https://www.facebook.com/Luke-Underhill-226295650787951/timeline/
Posted by Beach Sloth