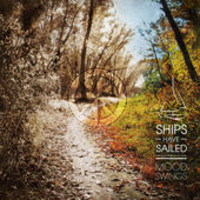 Ships Have Sailed master the balance between dance and rock on "Moodswings". At times reminiscent of similarly structured Australian group Cut Copy Ships Have Sailed use an impressive palette of sound throughout the album. By having such a diverse set of elements they are able to convey a sense of play. Whether this is the shimmering guitar work or the warmth of the handclaps they create an anthemic sound. "Moodswings" is a party album as much as it is an album to listen to for a little bit of hope. Lyrically the songs capture a sense of love and longing.
Audio:
https://soundcloud.com/shipshavesailed/sets/moodswings-by-ships-have-sailed
With the bubbling sounds of the synthesizer introducing the precise work of "Drive" Ships Have Sailed start the album off with an inviting narrative as the romantic qualities of the work define it. A sense of glam defines the gentle work of "Out of Time". By far the highlight of the album is the infectious "Boomerang". Everything syncs up perfectly from the colossal rhythms to the satisfying bass line. This is a song that requires volume to be fully appreciated. Calm in tone is the shoegaze influenced work of "You Should Know". Bringing it to a close is the Elliott Smith inflected simplicity of "Imaginary Friend". Kept stripped down to the absolute basics it ends things on a soft tender note.
Buy:
https://itunes.apple.com/us/album/moodswings/id955954960
"Moodswings" is an album full of warmth, highly refined to perfection. Ships Have Sailed gives a good name to indie rock, a very good name indeed.
http://www.shipshavesailed.com/
http://www.facebook.com/shipshavesailed
Posted by Beach Sloth