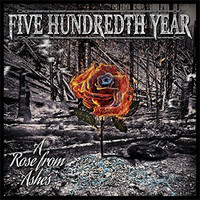 Five Hundredth Year goes forth with great fury on "A Rose from Ashes EP". Confrontational, volume-centric, and passionate, Five Hundredth Year explores darker impulses. The songs highlight the contrast between the absolute cacophonous and the quieter introspective impulses. Possessing great chops, the band is completely on point knowing when to go fully into the aural assault as well as when to pull back. All of this gains greater meaning with the powerful vocals and the insightful lyricism that dominates the collection.
"Stand Up"
https://www.youtube.com/watch?v=A6J9Q52BYIA
Absolutely no time is wasted with the rush of the opener "Blame Final". Five Hundredth Year experiences absolute despair on "Blame Final" whose lyrics are particularly poignant. With nearly a classical tone is the elegant work of "Awaken In Silence", by far the highlight of the collection. The harsh angles and chugging rhythms help to pound it into the memory. Strings in particularly help to smooth out some of its harsher edges. Quieter in tone is "Reflection" which shows restraint, almost at time flirting with more ambient atmospheres. Anxiety ridden is the nervous energy of "Stand Up". Bringing the collection to a satisfying conclusion is the headiness of "Violent Descent". For this track takes on an almost post-rock rock approach as the piece builds itself up ever larger and larger until it ends with soaring guitars.
Beautiful in its agony, Five Hundredth Year's "A Rose from Ashes EP" touches upon the best elements of metal, post-rock, and unbridled rage.
https://www.facebook.com/fhyband
Posted by Beach Sloth