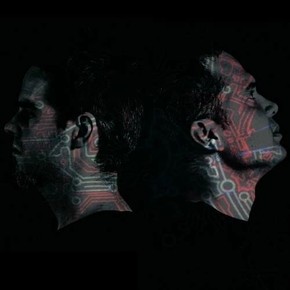 Determination and a desire to persevere is a constant with the band The Unravelling. Hailing from Canada band members Gustavo De Beauville and Steve Moore have more than battled their own demons to become the solid group they are. The combination of their talents and skills are evident in their new album "Tear a Hole in the Collective Vision".
The band name is meant to depict the essence of the human character. Their best definition is that it is "who we thought we were and what we thought the world was unravels. Thought unravels. It is a freeing process". Out of the two Gustavo is the only one who has some production training. Regardless of that fact their inherit talent is obvious in their work.
Their debut album "13 Arcane Hymns" was met with some fanfare. It was listed by Suite 101 as one of the Top Heavy Metal Albums of 2010. Other accolades came from Metaalunderground.com and Pitch Black Magazine and it even topped the CJSW Metal charts. They were also nominated for three 2010 Alberta Metal Awards and won in the Best Album Production category. Besides that their video "Move Forward Until You Are Dead,"(https://www.youtube.com/watch?v=Xfja5FUlR9k) directed by Doug Cook received worldwide exposure on the website Metalsucks.net.
"We put our hearts into that album and we're glad it was received well. Communication is such an important part of music that it's gratifying when it seems people "get" what you're putting across."
Yet tragedy hit the band when Steve Moore was diagnosed with cancer in 2011. This sidelined him for a year and half with a surgery and a recovery period. At his point it placed the band in a state of uncertainty. This is where the determination and desire to push forward for the band took root. They always kept up a positive attitude that has helped them achieve their goals.
While Steve was on his road to recovery Gustavo kept working to improve on his skills. He built on his production knowledge when he released soundtrack work and a solo project. The first volume of his solo work was released in February of 2014 which was featured in Guitar World.
The group has been influenced by a plethora of talent from Skinny Puppy to Public Enemy. For Gustavo his musical tastes ranged from such acts like Arcana and Nine Inch Nails as well as horror films and more obscure metal acts. The Unravelling had the opportunity to open for such talent like Helmet and Bison BC. But one of their most memorable performances was with Casey Lewis's band The Evidence.
As mentioned earlier they just released a new album "Tear a Hole in the Collective Vision" on August 7, 2015. Steve offered us his take on what the album would hope to portray.
"I'm not sure there are any references to it, except that I think a sense of urgency is evident, and a feeling of catharsis after not expressing creatively for a long time. You can hear that in "Revolt". Some anger came out as well, which makes sense. Much of the album's themes are focused beyond life situations, and that includes of course the state and death of the body. The album tends to deal with consciousness and emptiness."
One of their key singles off the album "Revolt" seemed to have a strong message of trying to find one's inner-self. It has brought much positive feedback for its psychological vision and how it touches upon comforting beliefs, attachments, opinions, belonging to groups. It's about the process of removing all those
connections and standing alone. You can check out the album by going to https://theunravelling.bandcamp.com/
The band does not have any plans for a tour but hopes to keep building on their past success. Even with their string of unfortunate road blocks they have proven to forge forward and deliver more thought provoking projects.
by Nick Christophers