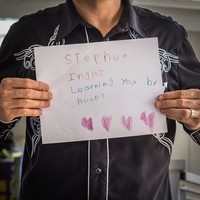 Stephen Inglis's "Learning You By Heart" is a languid lovely journey through a life. Poignant observations abound from the existential concerns about relationships to the hypersensitivity of social media. Possessing musical accompaniment that is airy and warm, these are the kinds of songs that make up the best variety of a reflective weekend. He employs a variety of stylistic choices going from chamber pop to folk. These many approaches are tied together by a strong adherence to a soothing mellow mood which exude a quiet joy.
Watch the music video for "Find Your Way Back Home":
https://www.youtube.com/watch?v=z8CBanh6on4
Stream and share "Learning You By Heart":
https://soundcloud.com/stepheninglis/sets/learning-you-by-heart
Opening up with a autumnal feeling is the crisp "Blind with Haste". Everything works from the steady yet easygoing rhythms to the elegant guitar work. Simple yet effective is the stripped down sound of "Learning You By Heart". Stephen Inglis shows off his dry sense of humor on "Lay Your Dagger Down". With poignant observations on the hallow specter of social media the song possesses a low key sensibility that serves it particularly well. Sunlit in temperament is the restrained work of "Troubadour". A full band defines the lullaby dream of "My Latest Offering". Careful in delivery is the sweetness of "Find Your Way Back Home" whose lyrics are deeply romantic. Bringing the album to a satisfying close is the crystal clarity of "The Long Run". From the nimble guitar work to the subtle harmonica, it feels like just the right ending hopeful and introspective.
"Learning You By Heart" is the heart and soul of folk.
https://www.facebook.com/stepheninglismusic
Posted by Beach Sloth